Flying to Zadar
Many visitors these days arrive by air. The arrival of Ryanair in 2007 not only revolutionised air travel to Zadar, but it was the first budget airline into Croatia. When it made Zadar its 54th European hub, the city was already benefiting from the 'Ryanair effect' in its tourism numbers.
The airport is located about 20 minutes out of town, and the comprehensive Total Croatia guide to the airport will tell you all you need to know.
Zadar is also extremely accessible by road, with no less than two motorway exits (named Zadar 1 and Zadar 2) on the main Split to Zagreb A1 motorway. Split, example, is just 90 minutes away by car.
Bus to Zadar
The main bus station is a short walk south of the old town, and it has excellent connections to the rest of Croatia. Buses in Croatia are generally on time, clean and increasingly offering WiFi on board. For the latest timetables, and to book tickets online, click here.
If you are heading to destinations such as Vir, Nin or Petrcane (home of Falkensteiner Punta Skala), the bus station is even closer to the old town (see the map above)
Driving to Zadar
Zadar is also extremely accessible by road, with no less than two motorway exits (named Zadar 1 and Zadar 2) on the main Split to Zagreb A1 motorway. Split, example, is just 90 minutes away by car.
The access road from Zadar 2 is straight and fast, but pay attention to the speed limit if you want to keep your holiday spending money for the city's excellent bars and restaurants.
Looking for a fast, reliable and trouble-free transfer to or from Zadar? Contact TC transfer partner Adriatic Transfers for your one-stop solution.
Ferry to Zadar
There are also numerous options by boat, and the city's busy ferry port serves up to 36 destinations via 6 ferry companies, to nearby islands, other mainland destinations, and international connections to Italy. As elsewhere in Croatia, sailing schedules are seasonal. You can find the latest sailing information here.
How to get from Zadar to Pag (Novalja), Sibenik, Split, Krka, Dubrovnik & Dugi Otok
Google Search gives a good indication of where people are looking to travel to from Zadar. A more detailed TC explanation of how to get to some of these more sought-after places.
Getting around Zadar by Bus
The city also has great inter-city bus connections, although you should be aware that many of them take the coastal roads, and so a trip to Split can take 3 hours or more. There is also a well-connected city bus service to get you around town. More information on tickets, map and times on the Liburnija bus website.
Taxis, Uber
Uber is present in Zadar if the global rideshare app is in your comfort zone. Taxis are also plentiful, and you can find a list here. The main taxi ranks are by the bus station on Liburnska Obala, the main bus station, and the bridge connecting the peninsula to Branimirova Obala.
Rent a car, car-sharing
The car rental market in Zadar is competitive and affordable. For a comprehensive list of companies, click here. Another option for getting around which is growing in popularity is car sharing, and services such as Bla Bla car are commonplace.
Bike
Cycling is increasingly popular in Croatia, and there are plenty of bike rental options, from mountain bikes to the more leisurely e-bike experience. You can check out a list of Zadar options here.
Parking in Zadar
In winter, you must pay for parking in Zadar from 08:00 to 16:00 Monday to Friday, 08:00 to 14:00 on Saturday, with Sundays and public holidays free. For a map of all the parking in Zadar, click here.
In summer, the paid period extends to 22:00, and the prices obviously increase. There are 4 zones for parking in Zadar, and you can pay by cash of SMS message (cash only). The zone codes, and summer and winter prices are:
In Zone 1 - Code 708231, 6 kuna/hr in winter, 12 kuna an hour in summer
For Zone 2 - Code 708232, 4 kuna/hr in winter, 10 kuna an hour in summer
In Zone 3 - Code 708233, 3 kuna/hr in winter, 3 kuna an hour in summer
Zone 4 - 2 kuna/hr
Daily tickets are also available for a reduced price. Summer prices take effect from May 1 to September 30.
How to get from Zadar to airport
There are several ways to get to the airport from Zadar, apart from driving yourself. For all the options with bus, taxi, Uber and private transfer, check out the TC Zadar Airport guide.
Private transfers
If you are looking for a private transfer from Zadar to anywhere in Croatia, please contact Adriatic Transfers, whose national network covers the entire country, as well as international connections.
Gondoliers for Venice, Barkajoli for Zadar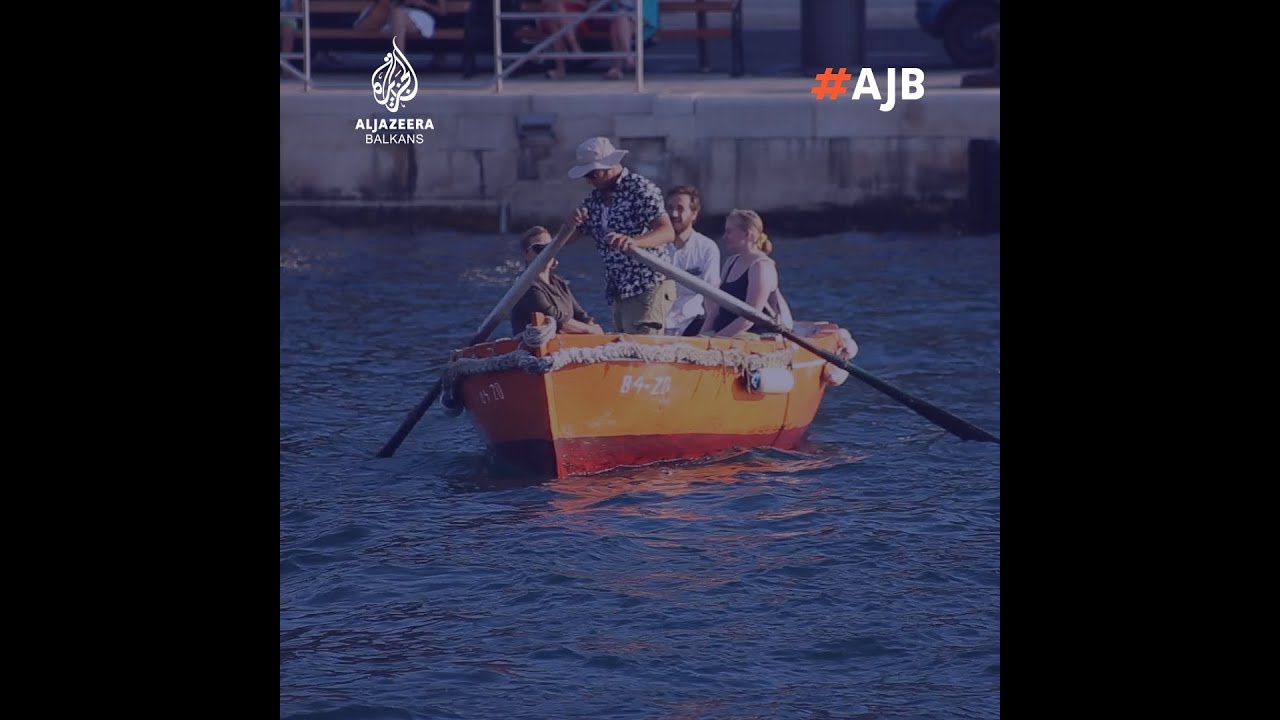 What gondoliers mean to Venice, barkajoli mean to Zadar! For over 800 years they have been connecting the two ends of Zadar harbour with their small rowboats during all weather conditions and saving time for their faithful passengers. This tradition has been passed on from father to son for centuries and has survived despite the challenges of modern times.
Exploring Zadar– Best Tours
There is LOTS to see and do in and around Zadar if you are looking for a tour. Here are some of the most popular:
Private walking tour of Zadar at sunset
Book this walking tour in the old town of Zadar at sunset. See the famous Sea Organ and the largest Roman Forum on this side of the Adriatic coast. From US$4.
Island of Pag and Nin Saltworks Private day trip from Zadar
Discover the Island of Pag on a guided walking tour, learn about cheese production and visit the Nin Saltworks on a private day trip from Zadar. From US$190.
Saharun beach and Zverinac island private boat tour from Zadar
Discover some of Croatia's most stunning islands during this private boat tour from Zadar. Visit the beautiful Zverinac island and Saharun beach. From US$78.
Private day-tour to Plitvice National Park from Zadar
Hike in the oldest and largest National Park in Croatia and enjoy the unique and beautiful nature in Plitvice. From US$348.

Zadar City Tour
Zadar flaunts a roll-call of Roman ruins and intriguing sights all packed within its historic streets. You'll join a guide to see all the monuments, including the famed Sea Organ and Sun Salutation, then have some free time to soak it all up on this half-day excursion.
After being picked up from your hotel, you'll venture into the historic centre of Zadar – a fascinating city on the shores of the Adriatic. Its churches – from Romanesque to Venetian – and elegant buildings as well as its mini-marina are a joy to discover. Wander around, visiting St Donatus Church, St Anastasia's Cathedral, the Roman Forum and People's Square, which lies at the heart of the action.
No visit to Zadar would be complete without witnessing the sounds of the Sea Organ and the light show of the Sun Salutation, both created by visionary architect Nikola Basic. After a walk along the seafront, you'll have time to yourself to visit museums or sip on a maraschino and drink it all in. From US$29.
Private island hopping tour by speedboat from Zadar
This private boat tour is completely tailor-made: choose the departure time and the islands you'd like to visit. Enjoy a perfect experience on crystal-clear water!
Spend the day visiting Ugljan, Preko, Sabuša beach, Muline beach, Iž, Ošljak, Galovac and the Kornati Islands National Park by speedboat.
Your experienced skipper knows all the best spots on all of the islands and will give you tips on excellent local restaurants offering authentic Dalmatian food.
Discover the best spots for snorkeling and see the marine life in the blue waters of Croatia. Travel to secluded beaches where you can relax and soak in the sun. From US$63.
Krka National Park full-day tour from Zadar
Discover the natural beauty of Krka National Park on this full-day tour from Zadar. Admire the park's magnificent waterfalls including Skradinski Buk. See the rich flora and fauna, explore the lake on a boat and take a refreshing swim.
The park covers an area of just over 142 square km (88 square miles) including the famous Skradinski Buk waterfall, one of Croatia's most famous sights.
Due to its special position and its various types of habitat, the park is characterized by exceptionally rich and varied flora and fauna. The abundance of various species of birds and the significance of Krka National Park for spring and fall migrations make this an ideal tour for both amateur and experienced birdwatchers.
After the pick-up in Zadar, you'll be taken to Skradin, where you'll board a boat for a 30-minute ride on the lake. Take a guided walking tour past Skradinski Buk, and then visit the park's ethnographic collection, mills, and weaving workshops. From US$72.
Kornati National Park full-day boat tour from Zadar
Spend a day touring Kornati National Park, one of the most magical places in Croatia. This group of more than 100 islands and cliffs will seduce you at first sight!
Visit this jewel of the Adriatic Sea sailing from Zadar. You'll leave in the morning and make your way to the park on a boat. Enjoy breakfast on board as you travel through the 109 islands that make up the park.
Along the way, you'll stop two times for total of 3 hours to go swimming. Then relax as you are taken on a tour around the park, admiring the dramatic karst-limestone formations that tower around you. In the middle of the day, you will also be treated to lunch aboard the boat. From US$45.
Wine and dine cooking class in Zadar
Experience the local cuisine cooking for yourself in a class led by an expert chef.
Prepare traditional dishes from the region using the best ingredients and learn how to pair your food with wine, of course with help from the experts. The chef will show you some special techniques and share their secrets to creating the perfect Dalmatian cuisine.
Enjoy prepping your meal with your friends and family, then dig into your creation! From US$144.
Zadar 4-hour private bike tour
Discover Zadar from a different perspective on a private 4-hour biking tour. Explore the lesser-know spots to the Old Town and the famous promenade with an expert guide. Ride along the narrow streets and learn about the legends and secrets of Zadar. From US$116.