Where to stay in Split
Many travellers to Croatia that have only recently discovered this destination are surprised when they learn Split is actually a rather new travel hotspot. It is an ancient, important regional centre, so there were always people travelling and staying in Split, but for much of its modern history it was mainly a transit point. A hub for further travelling to the islands or towards the south of the country. Today, it is being discovered by international travellers. This means the local accommodation is growing and becoming more diverse.
Split Croatia Hotels
While there is plenty of choice in Split, peak season will often see many of the local hotels booked up. Booking early is a great strategy in normal year. In 2021, while the COVID19 related restrictions are still not lifted completely, last minute bookings will be more common. You might even catch some special offers and discounts.
Recommended Split Hotels
Radisson Blu Resort & Spa
Radisson Blue is a 5 star seaside property with plenty of rooms and a wide range of amenities. It is a large resort complex that will appeal to all those wishing to relax in luxury and pamper themselves. Not far away from the historical centre of Split (30-40min walking), Radisson provides a rarely seen opportunity to enjoy all the comfort of a beachfront resort within a big urban area. Great service, amazing sea views, modern and spacious room, and a great spa centre will have this hotel ranking high on many people's wish lists.
Hotel Park
It is often tradition that enriches a hotel. They know this well in the oldest Split hotel – Hotel Park. It was opened in 1921 becoming the first modern hotel in the city. Its café has been one of the centres of local social life for decades. After a thorough renovation Hotel Park continues providing excellent service to new generations of discerning guests. Great restaurant and a nice offer of wellness amenities, including a salt room, are going to appeal to many. The rooms in this 5 star hotel are endowed with a spirit of old world charm, while café and breakfast are going to make you sit and enjoy yourself for longer than you've planned. Hotel Park is conveniently located close to popular Bacvice beach and the city's historical centre.
Le Méridien Lav
Although it sits just outside of the city borders, in suburban settlement of Podstrana, it would be a shame to omit this hotel from the list. Old Lav Hotel was a staple of luxurious accommodation in Split and synonymous with great service. After the acquisition by Le Méridien it was thoroughly renovated into a beautiful beachfront property with high quality standards. This 5 star resort style hotel is a great choice for those wishing to vacation in luxury, away from the main urban hustle and bustle. It provides top class amenities and dining so you will not have to leave the property during your stay unless you want to. With great spa & wellness centre and top class dining outlets, Le Méridien Lav will be your one stop shop for a relaxing and re-charging holiday.
Cornaro Hotel
Looking for centrally located accommodation, but don't want to give up on great service, amenities of a larger hotel, and high quality standard in room design? Hotel Cornaro has you covered. This 4 star property is located a stone's throw away from the Diocletian's Palace. It is an elegant hotel with spacious rooms and pleasant public areas. The staff is very friendly and keen to help and their breakfast spread will provide the perfect start to the day. Of course, hotel's location will be the main draw for many. While staying in Cornaro most of Split's most famous landmarks and social life spots will be within easy reach.
Marvie Hotel & Health
Marvie is the first ever health hotel in Croatia. It features an amazing wellness & spa centre focused on relaxation and rejuvenations. On-site fitness centre is also available as are MediDerm anti-aging clinic and a dental medicine centre. Along with a large indoor pool, hotel's rooftop pool terrace is especially popular with guests. All this is available within easy walking distance for Firule beach, close to all the necessary urban amenities and the historical centre. Marvie is a 4 star hotel with great reviews and plenty of reasons to make your stay in it a long one.
Best Split Croatia Boutique Hotels
Vestibul Palace
"Centrally located" is a term used often to describe hotels. Vestibul Palace gives it a whole ne meaning. This boutique hotel is located at the very centre of Diocletian's Palace. It was made by merging three different residences, one from Roman era, one originally in gothic style and one designed under renaissance era. It is hard to imagine a better foundation for a classy accommodation. Vestibul Palace offers beautifully decorated 5 star rooms and high service standards. It is one of the most renowned boutique hotels in the country. Along with amazing building and great accommodation, amenities offered to guests including private boat tours will have you booking your next stay as soon as you leave.
Palace Judita Heritage Hotel
On the main square within the historical centre sits Palace Judita. This renovated 16th century building houses a 4 star heritage boutique hotel with beautiful interiors reminiscent that evokes the ideals of classical luxury. Located on 13th century Narodni Trg (People's Square), popularly known as Pjaca, you can be certain Palace Judita will help you connect with the authentic spirit of old Split. Along with beautiful décor and a good offer of additional services, one of the key strengths of the hotel is knowledgeable and very helpful staff. They will ensure you not only have a pleasant stay, but also give advice on how to use your time in Split the most effectively.
Aparthotel Posh
Newcomer on the scene, aparthotel Posh is a modern and sleek 5 star property. It offers brand new, superbly furnished suites and a lovely infinity pool terrace with sea view. It is located just above Zenta marina and Trstenik beach. That is a central location, close to the historical centre of Split and within easy walking distance to some of the best city beaches and related amenities. Key words in aparthotel Posh are design and space. All units are spacious, feature a full kitchen facility and are designed to suit all the needs of a modern travellers. The building itself is beautiful and compliments the location perfectly. Staff is very attentive and knowledgeable and the offer of additional services will make your stay at Posh an experience to remember.
Heritage Hotel 19
This beautifully decorated 4 star property is very conveniently located between the historical centre of Split and Marjan park. Riva promenade, main sightseeing spots, recreational areas and beaches are all within easy walking distance. The hotel itself features carefully designed interiors with outside dining terrace perfect for enjoying the pleasant Mediterranean weather. High standards of accommodation and great service in the heart of the city will tick all the right boxes for those looking for a boutique hotel in Split.
Time Hotel
While there are many amazing boutique hotels within the historical centre, not everybody wants to be in the centre of the action. In Gripe neighbourhood of split is a modern 4 star boutique hotel Time. It is the proof you don't always have to go to a large hotel if you want your spa & wellness pampering while on holiday. Time features comfortable rooms of modern, clean design. It features a new wellness centre that boasts Finnish sauna, Jacuzzi, Turkish bath, massage and facial treatment rooms and much more. One of the key points is breakfast which is a la carte and offers enough amazing options to satisfy the most demanding of palates.
Split Apartments, Air BnB's, Villas
Croatians love owning rental properties. Traditionally, Croatian people own their real estate and rarely rent. This is why many people today own multiple properties, often handed down to them from their parents or grandparents. Many of these get converted into apartments or houses for rent during the summer season or year round. With this in mind, there is plenty of choice out there, but the quality varies immensely.
When looking for an apartment within Split make sure to get all the necessary information before making your decision. Some of the places can be tiny and look bigger in photos and some will be beautiful inside, but will be surrounded by ugly or poorly maintained buildings.
On the upside, there are many apartments that were just recently renovated and adapted to renting. There are usually well decorated with new installations and furnishings and will offer all the luxury of a higher end hotel accommodation at a lower price.
House and villas for rent are more numerous around the city than within Split. With amazing countryside area and beautiful islands, it's not difficult to see why. For a family vacation or a romantic retreat definitely go for something outside of the main urban sprawl and enjoy a bit of peace and quiet and amazing natural beauty of the local area.
What is the best area to stay in Split Croatia? (neighborhoods)
Sprawled out under Klis Hill, Split is full of interesting neighbourhoods to stay in. Depending on whether you are after amazing views, different local communities or proximity to amenities, your choices might vary. Budget, of course, is another important aspect to consider.
A few years ago, leading local tour guide, Ivica Profaca, wrote a very detailed overview of the neighbourhoods of the city for TCN. Starting with an overview of the neighbourhoods for your needs, Ivica then took us on the following weekly tour: Diocletian's Palace; then the quiet labyrinth on Marjan; then Meje, the district with a view; after that a visit to the land of Hajduk; then the beach heaven of Bacvice and Firule; then off the beaten path; and finally, a journey back in time to the Socialist era.
Where to Eat in Split?
Best Split Restaurant?
Of course, we are not going to tell you the best restaurant, simple because it would be impossible to do so. The fact is, there are amazing restaurants in Split in basically all the price brackets. It will be up to each individual hungry traveller to decide on what makes a restaurant great in their mind. However, we can tell you there are some great fine dining options in Split, but we might go for something a bit more personal and intimate. There are great little places all around Split's most popular areas that will feature truly local dishes. Explore those if you are after something authentic to Split and you just might find the best restaurant in town, according to you.
Recommended Split Croatia Restaurants
With plenty to choose from, we could make a much longer list, but we'll leave something for your to discover on your own. To help you start your dining adventure in Split, here are some of our favourite restaurants.
Zrno Soli
Zrno Soli is a fine dining establishment located in ACI Marina in Sustipan. The restaurant features amazing views over bay towards Riva promenade. It is 10 years old and within that time it became renowned for great quality food and amazing service. The menu consists mostly of Croatian dishes with special emphasis on sea food. The presentation might be modern, but the aromas and tastes are very much traditional. It can be pricy, depending on what you eat and drink. But, if you are looking for a great restaurant where everything is up to par even for the most demanding clientele, you will come to Zrno Soli.
Konoba Matoni
Konoba ma:Toni is a charming restaurant close to Bacvice and the ferry port. It focuses on general Mediterranean inspired dishes. The key are locally sourced ingredients and seasonally changed menu. With beautiful indoor and outdoor seating area, it makes for a perfect place for a summer lunch or a romantic dinner. In Matoni they also pride themselves with a selection of vegan dishes and special kids' menu. Wine list features some local and regional favourites and plenty of wines per glass.
Bokeria Kitchen & Wine
Speaking of good wine selection, Bokeria Kitchen & Wine is a place for all hungry wine lovers. Bokeria is set in the historical centre of Split and makes great use of the beautiful historic building it occupies. Food on the menu is mostly Mediterranean in its essence and relies heavily on the quality of primary ingredients and delightful simplicity. But, Bokeria will not shy away from some international favourites like burgers and tacos which will always come prepared with their on twist on the familiar theme. With great selection of wine that will be recommended by knowledgeable and pleasant staff, comes great selection of appetizers and bites that will make Bokeria perfect for both large meals and light lunches or snacks.
Mazzgoon
Restaurant Mazzgoon features modern Croatian cuisine. Young team of the restaurant named after a stubborn burden animal push their own vision of what modern eating in Croatia should be. And people love it. Restaurant is within the city's historical centre and outside seating will be a special treat, being surrounded by ancient buildings Food on the menu is creative and undeniably inspired by local favourites. The presentation of the food is beautiful and the overall vibe is of an energetic and exciting eatery well worth visiting more than once.
Reastaurant Kadena
We are finishing the list off with fine dining. Kadena restaurant is an upscale dining spot adjacent to Zenta port/marina. The emphasis is on high quality ingredients and perfectly presented dishes. Suitable for both private and business dining, Kadena provides everything you need to dine in style. Menu is rich with options. It features Croatian and international favourites including Wagyu beef. At Kadena, you will have great options for breakfasts and snacks as well as main afternoon and evening meals. Wine list is one of the best in Split with plenty of top quality Croatian wines as well as carefully selected international options.
Best Split Fast Food and Street Food Places
When in Split, you will have plenty of options for affordable and interesting fast food. Whether you are looking for a quick bite during your night out, or you want to have a full lunch to go, you will find something perfect for you. These are just some of the great places we enjoy visiting ourselves.
Popaj
Popaj (Popeye) is a local legend. It is a typical old-school Croatian fast food serving everything and looking less than appealing. However, the prices are great, food is delicious and long working hours saw many drunken nights end well because of their life saving greasy food. Popaj's menu is full of hot sandwiches, pizzas, tortillas, burgers and of course – cevapi. Cevapi are a favourite street food of Croatia (originating in Turkey, came here via Bosnia) that has mostly moved away from the street and into restaurants. It is therefore a welcomed pleasure finding these delicious minced meat treats in their street food form.
BBQ Skatula
It is advertised like "the only true barbecue place in Split" and that just might be right. It certainly might be the best. Skatula specialises in delicious barbecue favourites like ribs or pulled chicken and pork. You can find Skatula at the corner of Pojisanska and Viska, next to Popeye. They do take-out and delivery. You will however get the best experience if you buy and eat their food right at the spot while it is still hot and succulent. BBQ Skatula is a must visit fast food place for all barbecue lovers.
Sexy Cow
More meat you say? No problem. Sexy Cow is your mandatory stop on the quest for meat based fast food goodness. They do have a Veggie Cow on their menu which is delicious, but the star of the show are meat dishes with emphasis on beef. There are rump steaks, burgers and chicken dishes in wrap form and they are all equally delicious. Sexy Cow is going to be on the more expensive side when compared to some other fast food places in Split, but the price is still very reasonable.
Daddy Cool
Take a break from all the meat and visit Daddy Cool, Split's first falafel bar. Ok, you can still find meat in their food if you so want, but the vegan options might be the way to go here. Daddy Cool makes great falafels and makes them pop with a nice selection of topping and great pita bread. Hummus is another star of the show. Their hummus bowls will leave you happy and pondering your next visit. Find Daddy Cool in the historical centre of the city in Zrinsko Frankopanska Street.
Misto Street Food Factory
Don't mind the complex name. Misto is actually a very cool place that is not just about the food, but also about the vibe. This is the kind of street food place where you get more for your money if you come to it and eat at the spot. It's colourful menu includes burgers, zucchini and potato fritters, vegan flatbreads, kus kus and much more. Interesntigly, there is also a selection of cocktails to enjoy at very affordable prices. Misto is a family run business with creative and interesting menu powered by local ingredients.
Where should I go for dinner in Split?
Needless to say, it again depends on the type of dinner you want, but the truth is, most restaurants will offer completely different experience during the evening. Night time changes the look of the city. The historica centre with narrow, stone cobbled streets will offer a special setting during the evening. Places that are too hot to sit in during the summer day become transformed into a perfect setting for a romantic dinner. Also, restaurants with the view to the city's promenade of Diocletian's Palace will offer much nicer backdrop when all the lights are on and the stars are out.
Are there any Michelin star restaurants in Croatia?
This is a very common question. There are currently seven Michelin star holders in Croatia. None of them are unfortunately in Split, which is surprising and hopefully soon to change. Closest of these to Split are LD Terrace in Korcula town on Korcula island and Pelegrini in Sibenik. Michelin guide recommended restaurants in Split are: ZOI, Zrno soli, Kadena, and Dvor. In Trogir there is also Konoba TRS.
Is Split expensive for food and drink?
When it comes to prices, Split will hae both extremes. There are certainly places that are overpriced and historical centre restaurants and bars will undoubtedly be on the more expensive side. But, there are also many options that are very reasonably priced and some downright cheap places for food and drinks. It is all up to you to get informed and definitely, check the menu before sitting down and ordering. There is no need to overpay when in Split.
Where to party in Split: bars, cafés and nightlife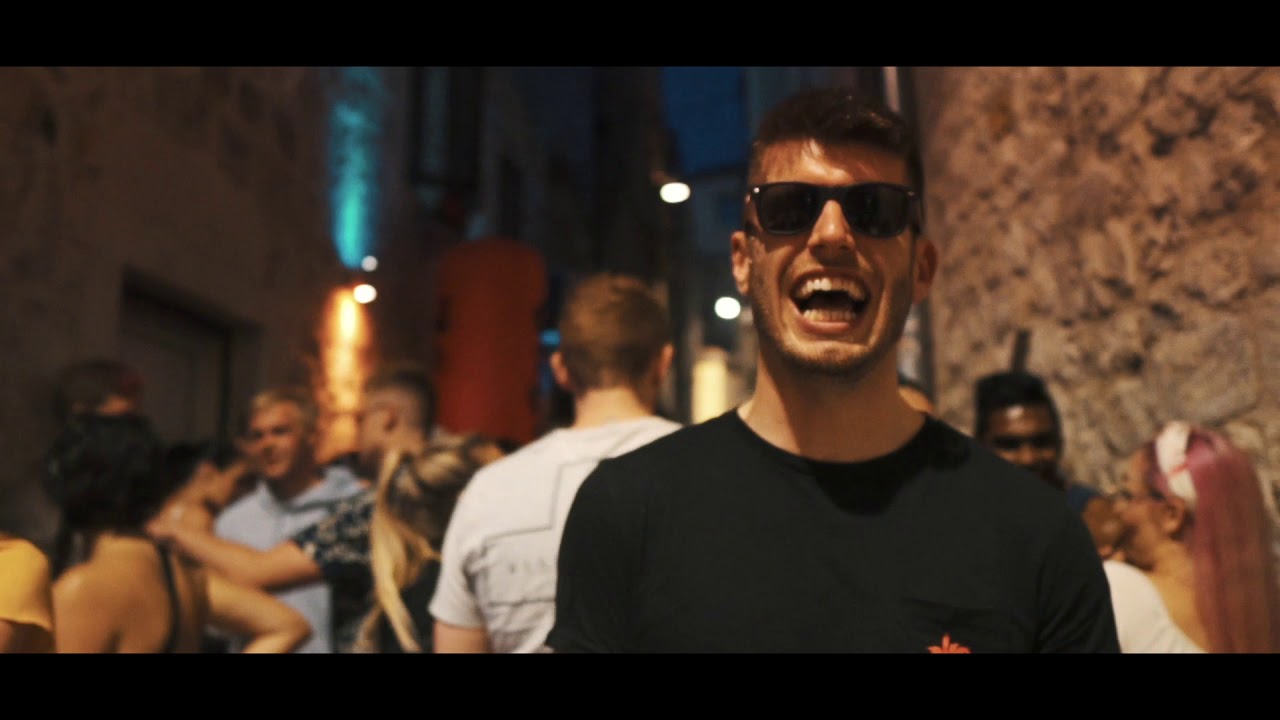 Split Riva
Riva is Split palm-lined promenade. If you leave this city knowing nothing else about it, you've missed the whole point of living in Split. Riva is by far the most popular and important social artery of the city. It has been a place of socialising and relaxing for centuries and today represents first stop for many travelling to Split. Enjoying your favourite beverage (coffee) in one of the numerous open terraces on Riva is an absolute must for many locals and guests alike. People watching is also a must as is getting lost in conversation. There is no excuse for visiting Split and missing out on the true spirit of Mediterranean living by not enjoying Riva.
Most Instagrammable Split cafés and bars
Lvxor Café and Restaurant
Lvxor is located on Peristil Square. This information alone is enough to let you know it is set in one of the most beautiful and important spots in the city. Surrounded by impressive palace pillars, the Cathedral of St. Domnius and ancient Egyptian sphynx, Lvxor boasts one of the most impressive settings in Croatia. Interior is also amazing with the Roman-gothic column still preserved in the middle of the bar and beautiful decorated ceilings.
The Daltonist Craft Bar
Just outside of Diocletian's Palace, this cool bar offers quite a selection of craft beers, cocktails and other drinks, as well as some welcomed bar food. It is the rustic interior of the bar and the presentation of cocktails that make is very Insta-friendly. You will hardly be able to resist snapping a few photographs while there. Don't think for a second the look of the place is the only thing worth visiting Daltonist for. It is a great addition to Split bas scene and a great place to go out to with friends.
Cinema Bar – CineStar 4DX, Mall of Split
Mall bars and cafés often leave much to be desired when it comes to the décor and general feel. Cinema Bar in Mall of Split is an exception to this rule. This recently opened bar is a part of a CineStar multiplex movie theatre. It was designed by renowned Croatian interior designers Dean Franic i Sasa Sekoranja and is a total eye candy. Colourful, yet not overwhelming, Cinema Bar features an eclectic mix of furniture and spacious design. It is adorned with movie posters and books and provides for a great place for drinks with friends.
Noor Bar
Noor Bar advertises itself as "Probably the biggest small bar in the world". Its tiny interior is beautifully decorated and well worth photographing, especially the dimly lit bar area. The bar is within the Diocletian's Palace area, and the narrow street and nearby stairs offer seating opportunities for the patrons. The setting is amazing and it will make you stick around for quite some time. Bar's famous cocktails are both delicious and beautiful to behold.
Any of the Riva Cafés
Realistically, any of the cafés on Riva promenade might find themselves on the list of instagrammable places simply for the location they occupy. Terraces of these bars and cafés will give you wonderful views of the promenade and the port. People walking down Riva will come in all shapes and shades of interesting – from the eccentric to the gorgeous.
Is Split Croatia good for nightlife?
With large population of young people and growing in popularity among young guests, Split is known as a city where you can have plenty of fun at night. This is especially true during the summer. So, Split is great for nightlife, but not during the entire year. Rainy winter and late autumn months could leave you bored at night.
Here's a look at some of the best nightlife in the city.
Is Split Croatia a party place?
Since globally popular Ultra Music Festival started doing their European festivals in Split, the reputation of the city as a party destination. If you are coming to Split for partying, know that you will have options, especially if you are looking into the surrounding areas and islands as well. Hvar Island and Split in one party vacation during the summer, might be the right recipe. However, Split is far from being just a party destination. You will be disappointed if you expect 24/7 partying on all the city streets and beaches. When travelling to party, take into account Dalmatian islands as well and take note of where and when big festivals are held.