Welcome to Slavonski Brod Croatia!
Probably the least-visited major city in Croatia, Slavonski Brod is a fascinating place perfect for rest and recreation. Steeped in history and tradition, surrounded by nature and rich in culture and cuisine, you really should stop by. As we'll try to show here...
Things not to miss in Slavonski Brod
Soul of Slavonski Brod: the Sava river
Here separating Croatia and the Republika Srpska entity in Bosnia and Hercegovina, the Sava river is the very reason Slavonski Brod exists here. The river was once a vital international trading route. Today, it is still essential to the life of Slavonski Brod and its residents. But, rather than economic, its importance now lies in the recreation, sports, and fun you can find on the river and its shore.
Poloj
Of all the many places for recreation in Slavonski Brod, Poloj is perhaps the best-loved. In summer its sand beach is filled with swimmers and sunbathers. Indeed, it's been like that for as long as anyone can remember. In fact, at one time it might have been even more popular than it is today.
Sitting just 3km east of the city center, the dedicated Poloj recreational lies at the tip of a large 'peninsula' that cuts into the Sava. It is surrounded by forest and has areas set aside for public barbecues and sports. Namely, beach volleyball and five-a-side football. Also, for the youngest, a children's playground and sometimes in summer, inflatables on the river.
Behind the main recreation area, bike trails and several weekend houses - vikendica. People love to spend time here and most of those with a weekend home here actually have a normal residence just a couple of kilometres away. Crazy! If you live in Europe, then usually your holiday home is thousands of kilometres away! But, not if you live in Slavonski Brod. If you live in Slavonski Brod, then the best place in the world is down by the river, in Slavonski Brod. Truth be told, that logic is difficult to argue against. An amazing place it is.
Events on Poloj
One of the best excuses to visit Poloj and indeed Slavonski Brod is the special events that happen here from time to time. In particular, look out for Fišijada, usually held on the first weekend in July. Specifically, it's a mass cook-off of traditional river fish paprikash and carp cooked over an open fire. One event that has to be seen to be believed is Pečenkijada, organised by Motorcycling Club Brod. At this event - unique in Croatia - hundreds of motorcyclists from clubs all over Croatia (and some international ones too!) descend on Slavonski Brod. Their purpose? The largest outdoor pig roast you ever saw.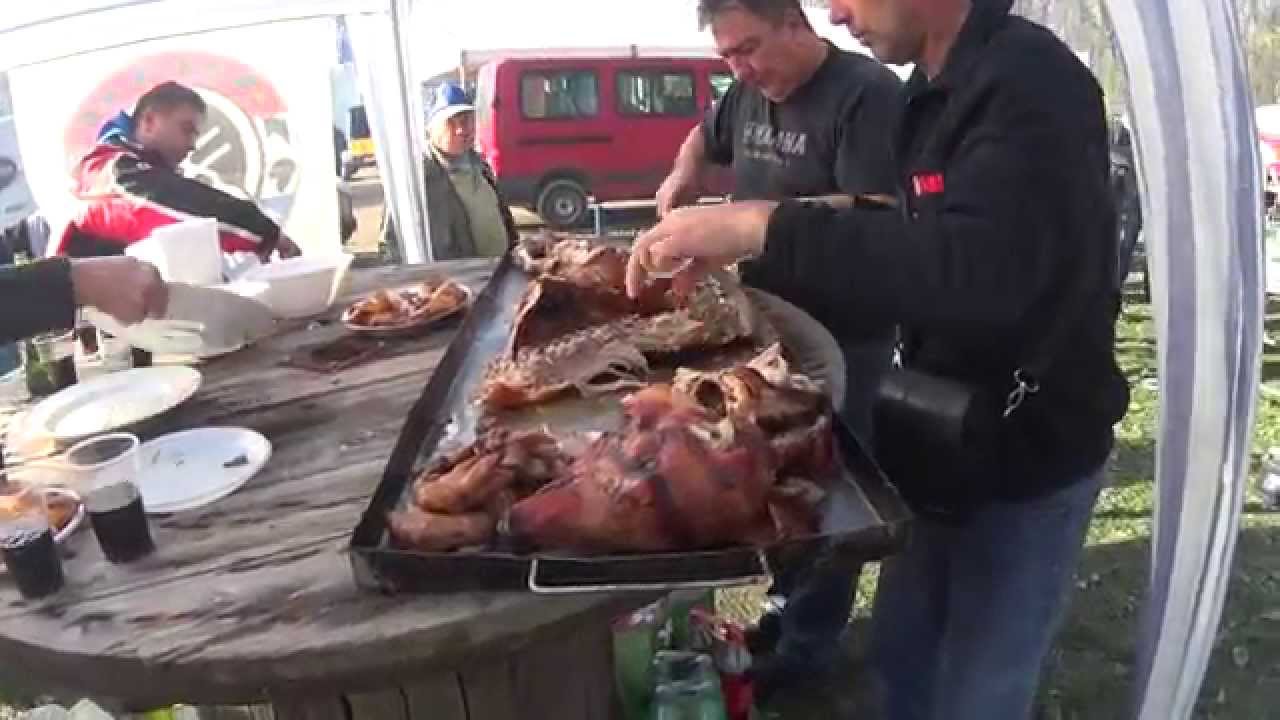 Splavarska - Slavonski Brod street of rafts
Splavarska ulica - rafting street. It sounds like an appropriate nickname for line of rafts on the Sava. But, it's not. Splavarska ulica is the only street in Croatia where residents live on top of the water. Beginning at Sports Hall Vijuš and Slavonski Brod swimming pool, Splavarska ulica then runs down the entire western shore of the 'peninsula' holding Poloj. There's no connection to normal city amenities, such as electricity. But, each of the 'houses' has its own number. You could post a letter to someone here and it would be delivered.
In total, over a hundred rafts line the banks of the Sava in Slavonski Brod. Generally, their residents are locals who simply love nature and the peace of the river. In warmer months, many rafts are inhabited all day, every day. Although, almost all are full over weekends. In winter, raft residents mostly return to their main dwellings - usually in and around Slavonski Brod. Although, a few have been known to spend the winter here too.
All the rafts are unique. Generally, they are constructed by their owners and develop over the time spent on them. The rafts are fixed to the bank, but not to the river bottom. Indeed, they float atop the river and are capable of rising and falling as the river swells.
Čika Mata - legacy of Mata Marković
There's a kind of residents association, 'Čika Mata', named after a pioneer of living aboard a raft on the Sava. Mata Marković lived on the river from at least 1936 until 1989. He spent his time helping to maintain the river's public bathing area and beach and teaching youngsters how to swim.
Similarly, Čika Mata today helps look after the river so that it is accessible and people can better enjoy it. They organise ecological interventions and 'clean-ups' of the river and river banks. Previously, they also organised a small boat and rafting convoy which travelled the Sava from Sisak to Slavonski Brod. In detail, it took the 30 or so participants some four days to cover the 220 kilometres of river route.
Torchlight procession of the Slavonski Brod river rafters
Participants in several social and cultural events, Čika Mata are today an asset of Slavonski Brod's tourist offer. Indeed, if you want to visit a raft in Brod, but don't know anyone there, then you should contact them. Perhaps the most popular annual event they organise is the torchlight procession of the Slavonski Brod river rafters. Held on the last Saturday in August, it marks a celebration of the summer just ending. (Although, there's at least another month left on the rafts for most).
Previously, the procession held a wonderfully traditional feel. Small fishing boats, canoes, kayaks and some swimmers would float from the city bridge down to Splavarska ulica. Their journey powered by the river flow and lit by the atmospheric glow of traditional flamed torchlight. You can see hundreds of city residents on the promenade this night, enjoying the spectacle.
However, these days, an element of the event's charm has been slightly lost due to its popularity. You find boat motors much more part of proceedings today. Furthermore, the wonderful ambiance of traditional torches is now sometimes replaced with air horns and the familiar red of football terrace flares. Unfortunately, these are coloured red by strontium carbonate, strontium nitrate or lithium. Subsequently, thousands of tiny particles of these metal compounds are released into the air as smoke. Later, they descend to unnaturally pollute the very river being celebrated.
Fishing
You'll find river fish featuring prominently on the traditional food menu of Slavonia. Both carp and trout, catfish and perch are popular and plentiful here. Accordingly, you'll see fishermen lining the Sava banks in Brod almost every day. Not only does Slavonski Brod have two of its own fishing clubs in ŠRU Som and ŠRU Sava, but also it is home to the Sport-fishing association of Brod-Posavina County. If you want to get a license or to find out more about fishing in Slavonski Brod, then these are the folks to speak with.
Canoe and kayak
Both recreational and serious sport in Slavonski Brod, canoeing and kayaking are extremely popular here. In fact, the city has at least two kayak and canoe clubs. Namely, Olimpik and Marsonia, the latter being almost 70 years old.
Sava river promenade 'Kej'
At two and a half kilometres in length, 'Kej' by the Sava in Slavonski Brod is one of Croatia's longest riverside promenades. It stretches from the mouth of the river Mrsunja to the city swimming pools. Thereafter, it meets the promenade of Splavarska, in total creating almost 5 kilometres of uninterrupted riverside run. Brilliant for walking or cycling, on weekend nights it's a popular hang out for city youths. If you take a stroll, be sure to look out for the street art painted along the route.
Cycling
Bicycle is one of the best ways to explore the green city of Slavonski Brod. If you want to get to know the suburbs or head into the green villages surrounding, then there's no better way. Not only do you have the 5 kilometers of promenade to cycle, but also there's a further 10 kilometres of riverside road on the west of town. Alternatively, grab your passport and cycle across the bridge to explore another country.
If you want to cycle the city, then you'll find bike-sharing stands at Ulica Andrije Štampara 23, Ulica Petra Krešimira IV 6, Ulica Stanka Vraza 2. You'll need to use your credit card and sign up to Nextbike, or download their app. If you want to know more about cycling activities and competitions in and around Slavonski Brod, then the city has several bicycling clubs. Namely, Biciklistička udruga Brod (BUB), who participate in road races, Festung, who help arrange some off-road bike trails in the surroundings and BCKlan.
Swimming
In warmer months, the Sava serves as the free city swimming pool, just as it always has. But, in colder months, that doesn't mean you have to stop. In fact, divers and water polo players year-round make good use of Gradski bazeni Vijuš - Slavonski Brod city pools Vijuš. Both large indoor and outdoor pools now make up part of the swimming offer here. Find them at the northwest corner of the Poloj peninsula, less than 50 metres from the Sava, just behind NK Marsonia's stadium.
Sports hall Vijuš (Športska dvorana Vijuš)
This sports hall, part of the same complex as the city pools, is not just for sports. Sure, the main hall upstairs hosts many of the indoor sports of the city - basketball, handball, football, gymnastics etc. But, downstairs, you'll find a bowling alley that is much more recreational than anything so strenuous.
Slavonski Brod Fortress (Tvrđava Brod)
Prince Eugene of Savoy
Sitting on the throne of France for 72 years and 110 days, Louis XIV is the longest-serving monarch in history. But, his extended success was not born purely of rationale. Indeed, he was prone to idiosyncratic behaviour. And he was illogically vengeful. So, when he refused young Prince Eugene of Savoy's offer to serve in the French army, he needlessly created a formidable enemy for life. Instead, Savoy simply offered his services to the competing Imperial court in Vienna.
Outliving Louis by over 20 years, Savoy became one of the most successful military commanders of the era in his six-decade-long career. Also, he was called on to fight against France many times. Indeed, one of his key achievements was to help save the Habsburg Empire from French conquest. The other being that he broke the westward thrust of the Ottomans. As a result, he liberated parts of Europe previously under Turkish occupation for over 150 years. In order to secure the border, Savoy ordered the construction of four forts. Namely, Stara Gradiška, Osijek and Slavonski Brod in Slavonia and Petrovaradin in Syrmia, today neighbouring Novi Sad.
The star-shaped fort that defined Slavonski Brod
Inspired by Dutch fortification concepts most modern at the time, Slavonski Brod Fortress must have looked an imposing conquest from across the river. Its intruding points, moats and overlapping geometric shapes are dazzling.
At the time of its construction, it defined the town. Everything else was secondary. The local Slavic population was not politely asked to build it, partners in the endeavor. They were forced to do so.
In the rest of the town, it was forbidden for them to make their own houses from anything other than wood. No stone was permitted. If the Ottomans managed to break through into Brod, they would have no advantage. Nothing to hide behind. The Austrian army would simply flatten the entire wooden town and defend from the fort. The local Slavs would just have to rebuild their houses again once the threat had passed. This defensive strategy for Slavonski Brod remained in place for the 18th and most of the 19th centuries. Yet, the fortress itself never once came under siege.
Sections and specifics
The fortress consists of three defensive zones: internal, external and southern. You'll see it's protected by two moat areas. In the rectangular centre, four bastions connected by defensive walls. Both canon platforms and sentry boxes stood atop these bastions.
Within the central part, the Cavalier - a large brick-walled two-storey building in the form of a horseshoe. Inside, up to 108 large rooms used for accommodating soldiers, artillery, bakery, hospital and blacksmith. In the very centre of the fortress square, the baroque chapel of St. Ann.
Today, you can go to the fortress as part of Slavonski Brod's visitor offer. Inside, you'll see its buildings housing art, illustrations of its history, spaces for education and workshops.
Traditions of south east Slavonia
If you want to get to know the real Slavonski Brod and Slavonia, then you have to discover the traditions of the region. Lucky for you, there are only a few ways of doing this and all of them are big, big fun.
Food
Firstly, there's eating. If you want to discover traditional Slavonian food in Slavonski Brod, then read our full-proof restaurant guide below.
Music
Secondly, there's music. Anywhere you see the words 'tambura', 'tumburica' or 'bećarac' advertised as part of the music programme in Slavonski Brod, you should go. If it's a cultural, social or gastronomic event or even a restaurant, then it doesn't matter. Just go. Not only is this the traditional music of the region, but also it is good. By comparison, anywhere you see an advertisement for 'Najbolje cajke u gradu!', then maybe avoid. At best, you will leave a place like this with tinnitus and earache. At worst, a black eye and an impending paternity suit.
Events and folklore
Some of the best ways to experience local culture are at events. Furthermore, if you're looking for the real culture of the locale, pay particular attention to the resident folklore societies. Not only do they preserve the costume, song and dance of the region, but also they differ fascinatingly from village to village. In fact, there are 45 KUDs (folklore societies) in Brod-Posavina County. Furthermore, you'll find four of them preserving traditions in Slavonski Brod itself. Namely, Folklore Ensemble Brod, KUD Brodsko vinogorje, KUD Eugen Kumičić and KUD Podvinje.
Also, one of the oldest folklore events in Croatia takes place in Slavonski Brod. It's called Brodsko Kolo and usually takes place in June. If you want to learn more about it, then check with the Folklore Ensemble Brod. Because they play a big part in its organisation.
Fransiscan Monastery
Markedly, you'll see little ornamentation on the exterior of the Franciscan monastery and church in Slavonski Brod. Not only does this display a modesty, a pious acknowledgment of the building's pastoral role, but also caution. Indeed, with 3.5 metre thick foundations, and 2 metre thick walls, there can be no doubt it was built to withstand possible attack. However, don't be fooled by the plain exterior. Inside, you'll find a richly decorated complex, one of the true Baroque treasures of Croatia. In particular, the cloisters on the monastery interior, the extravagance of the altar and the general decoration of the church interior.
You'll find the monastery in the city centre, right by the river. When you visit, be sure to look out for its beautiful neighbour, the old Slavonski Brod Fire Station.
Where to stay in Slavonski Brod: Hotels, Rooms, etc.
Hotels
You'll find several hotel options in Slavonski Brod. The 4-star Hotel Savus is in the city centre with views over the river. By comparison, Art Hotel is just a couple of minutes away and is a modern 3-star hotel. With a range of rooms to suit any budget, the Hotel Central, Smart Hostel & Svečana dvorana enterprise should definitely be considered. They're conveniently located and have rooms at a very good price. If you're driving through Slavonski Brod and need a single overnight stay, then consider the funky and family-run Hotel Garten. You'll find them just off the A3 and they provide great traditional cuisine.
Apartments, hostels, rooms etc.
If you want to see a fuller list of apartments, hostels and rooms in Slavonski Brod, then look here. Or, check out what's available on the booking platform below.
Of special mention
Want to get out of the city and away from it all? Try Kuća za odmor Mladen i Martina. If you're looking for a rustic stay, with brilliant, authentic, local cuisine, then try Rodino Gnijezdo.
Where to eat? What to eat?
If you're visiting Slavonski Brod or the surroundings, then one of the best things you can do is try local food. In particular, Slavonian food is known for strong, robust flavours. Both garlic and paprika are used abundantly here and you'll see some of the region's best dishes coloured a deep red by the latter. In particular, look out for stew-like dishes such as fish paprikash and čobanac. Also, river fish dishes. Although, watch out for the bones.
Slavonski Brod restaurants
If you want to eat Balkan grill, then try Podroom grill in the city centre. Although, for take away, a big favourite with Slavonski Brod residents is the authentic and Halal Bosnian grill, Čevabdžinica Aljko&Sin. Find it just across the bridge in Bosanski Brod. Apparently, theirs is Ćevapi worth travelling to another country for. Albeit one that's extremely close.
If you want pizza, then Uno is the top recommendation. Although, the restaurant also has a substantial menu of authentic and seasonal local dishes too. Outside of the city centre, but also recommended are Rest-o-rane Duo at Osječka 270 and Grozd at Becić 11A, near the highway in Brodski Varoš.
Authentic local: top tips
Kuća Piva / Antik
Put simply, Kuća Piva is one of the best pubs in the county. If you're a fan of craft ales or want to meet the local brew, then head here. It's an institution. Furthermore, if you're hanging out with someone from Slavonski Brod who loves beer and who loves Slavonski Brod, then they'll probably bring you here anyway. Attached to the pub are several offshoots. Specifically, there's a bar food section. Also, there's a restaurant section. Namely, Antik. Both Kuća Piva and Antik should be in your plans if you're staying longer than 24 hours in Slavonski Brod.
Rodino gnijezdo
If you look at the Facebook page of traditional Slavonski Brod restaurant Rodino gnijezdo, then you will learn three things. Firstly, they are terrible at photography. Secondly, their food looks amazing and you want to try all of it. They really know exactly what to do with river fish and traditional favourites. Thirdly, every pop and rock star that is famous in Croatia and who passes through Slavonski Brod seems to eat here. This third part requires you to have an awareness of Croatian rock and pop stars, which is not something that anyone outside this tiny country has. Nevertheless, this is essentially all you need to know about any restaurant in Croatia. Therefore, you should definitely come here.
Top 5 day trips
Đakovo
Just 40 minutes from Brod by car, the Slavonian town of Đakovo has one of Croatia's grandest cathedrals. Without question, its interior is a bona fide masterpiece. Religious or not, you shouldn't miss it.
Vukovar
The only sizeable Croatian town sitting on the Danube, Vukovar offers the best of this river. From fishing and boating, to swimming and tours. Also, Vukovar has a wealth of contemporary street art murals on many building facades. If you want to learn more about Vukovar, then visit our detailed guide.
Kopački rit Nature Park
One of Europe's largest wetlands, Kopački rit is a wild-life rich paradise between the Danube and the Drava River. Founded in 1973 and designated a Nature Park in 1993, Kopački rit is the Danube's biggest landlocked delta. Thousands of migratory birds make a temporary home here. For others, it's a home nearer to permanent. Similarly, other animals come and go, also in response to the changing temperature, water level and seasons. If you want to learn more about the park, then read our detailed guide.
Baranja
North of Slavonia, there's a whole other region to discover in Baranja. Coupled with delicious wines, you'll find food in traditional Baranja village restaurants is the real deal of regional cuisine. Or, go visit an OPG (family farm), take a pottery workshop, a cookery class or more. Bilje is the very first village in Baranja as you cross the Drava from Osijek. Not only does it hold Kopacki Rit and several great restaurants, but also some super OPGs and a small castle. If you want to read more about Bilje, Baranja, its unique winemaking traditions, and some of the OPGs, then look here.
Osijek
If you're looking for something with more of a larger city feel, then choose Osijek. Not only is it by far the biggest city in Slavonia, but also it's the cultural and economic capital. Notably, Osijek has one of Croatia's best promenades, stretching for kilometres on both sides of the Drava. Also, its Old Town, Tvrđa has the best-preserved and largest ensemble of Baroque buildings in Croatia. Incredible. If you want to learn more, then read our detailed guide.
Things you (maybe) didn't know about Slavonski Brod
Croatia's greatest contemporary striker is from here - Mario Mandžukić
The greatest Croatian striker of the modern era, Mario Mandžukić, is from Slavonski Brod. In fact, he was born here on 21 May 1986. Fleeing war in the early 90s, his family temporarily relocated to Germany. However, they returned after the fighting stopped and, aged just 10 years old, Mario signed up to local team NK Marsonia. He stayed there until 2003, when he moved to spend a season at the city minnows NK Željezničar. The next season, he returned to Marsonia and in the summer of 2005 moved to NK Zagreb.
After becoming the top scorer in the Croatian First League, he was bought by VfL Wolfsburg. But, after he became joint top scorer in the 2012 Euros, German giants Bayern Munich snapped him up. In his first season, Bayern won the Champions League, with Mandžukić scoring in the final. After one more season, he left Bayern for Atlético Madrid. But, just one season later, he was signed by Juventus.
Mario helped Juventus win three consecutive domestic doubles (the Italian first league and cup) in his first three seasons. Also, he helped take them to the Champions League Final where he again scored. Mandžukić featured prominently in the Croatian National Football Team over two Euros and two World Cup competitions. After helping secure the team's place in their first World Cup Final in 2018, he retired from international football.
One of Croatia's greatest writers lived here - Ivana Brlić-Mažuranić
Unquestionably, Ivana Brlić-Mažuranić is Croatia's greatest ever writer for children. Though published over a century ago, her books like 'The Marvellous Adventures of Apprentice Hlapić' (Čudnovate zgode šegrta Hlapića) and 'Croatian Tales of Long Ago' (Priče iz davnine) remain popular to this day. They have been translated into over 40 languages and have entertained children the world over.
Mažuranić family
In truth, Ivana Mažuranić had a very privileged start in life. Not only was she born into an aristocratic family, but also she later married into another. Born on 18 April 1874 in Ogulin, her father Vladimir Mažuranić was a writer, lawyer and historian. Significantly, in 1882 he wrote Prinosi za hrvatski pravno-povjestni rječnik (Croatian dictionary for history and law).
Both Ivana's grandfather and grandmother were extremely famous. Firstly, her grandfather was the famous politician, Ban of Croatia and poet Ivan Mažuranić. On the other hand, grandmother Aleksandra Demeter was the sister of well-known writer and national revivalist, Dimitrija Demeter. With her family, Ivana first moved to Karlovac, then Jastrebarsko, and then to Zagreb. In the latter, she briefly attended a girls' school. However, most of her education came from homeschooling, where she excelled in languages. Namely, Croatian, Russian, English, German and French.
On her birthday, 18 April 1892, she married Vatroslav Brlić. 14 years her senior, Vatroslav was a lawyer and politician who came from one of Slavonski Brod's most prominent families. The wedding ceremony took place in St. Mark's church, Zagreb. One of their godparents on the occasion was the then-mayor of Zagreb, Milan Amruš. Thereafter, Vatroslav and Ivana went to live in Slavonski Brod.
Ivana Brlić-Mažuranić's life in Slavonski Brod
Despite her family's standing in Zagreb, Ivana fully embraced her new life in Slavonski Brod. Firstly, she devoted herself to becoming a housewife. Well, she pretty much had to. Ivana was the sole female within the main Brlić family home, where Vatroslav's brother and uncle also lived. By several accounts, she inherited a rather substantial task in fixing up the place to the standards of a Zagreb aristocrat.
Subsequently, the couple went on to start a family, Ivana eventually becoming a mother of six. Ivana set about giving their children the same high level of homeschooling she herself received. Specifically, she taught them French and gave piano lessons. But, when it came time for the children to receive a wider education, they were sent to Zagreb. Not only were the schools better there, but their grandparents loved to host the children for extended periods. Also, this gave Ivana more time for writing.
Masterpieces of Croatian literature written in Slavonski Brod
Markedly, Ivana had always enjoyed writing. Previously, before marriage, she had been a keen diarist and letter writer. However, her more poetic and fanciful writings were put to one side as she devoted herself to duties as a wife and mother. After around 10 years of marriage, that slowly began to change. Between 1902 and 1912, she published three booklets - collections of short stories and poems. They were well received, one even reviewed by great Croatian writer Antun Gustav Matoš. But, it would be her next two, committed books that would cement her international reputation.
In 1913, 'The Marvellous Adventures of Apprentice Hlapić' (Čudnovate zgode šegrta Hlapića) was published. It was a great success. She followed it in 1916 with another masterpiece, 'Croatian Tales of Long Ago' (Priče iz davnine). In the latter, she invented fantastical fairytales that referenced ancient folklore, earning her comparisons to Hans Christian Andersen. Ivana Brlić-Mažuranić devoted the next two decades of her life to raising her children and to writing fiction. Thereafter, she went about preserving the massive, rich archives of the Brlić family. Within it, correspondence between family members and the great and good of Croatian society. Namely, Bishop Josip Strossmayer, Ban Josip Jelačić and others.
Achievements and legacy
Ivana Brlić-Mažuranić was nominated for the Nobel Prize for Literature no less than four times for her writing. Furthermore, she was the first female to enter the Croatian Academy of Sciences and Arts. In Slavonski Brod today, you will find a square, a school, a theatre and concert hall named after Ivana Brlić-Mažuranić. The Brlić family library and archive that she worked so hard to preserve exist also. She is commemorated each year at a children's festival 'In the World of the Fairy Tales of Writer Ivana Brlić-Mažuranić'. Held in April and May, it is one of Slavonski Brod's most significant cultural events.
Agatha Christie Murder on the Orient Express is set just outside Brod
Millions of people around the world have heard of Slavonski Brod. But, few of them even realise it. Because, the town is prominently featured - as 'Brod' - in one of the most famous murder mysteries of all time. Namely, Murder on the Orient Express by Agatha Christie.
Emphatically, the most-translated author ever, Agatha Christie's books are enjoyed across the globe. Not only have hundreds of millions of her books been sold, but also more than 30 major films have been based on her works. No less than four feature-length movies have been made for Murder on the Orient Express alone. It is her biggest selling book.
In the story, Christie's famous detective Hercule Poirot is making his way from Istanbul to London on the Orient Express. After a brief opening in the Middle East, almost all of the rest of the story takes place in present-day Croatia. Specifically, between Vinkovci and Slavonski Brod. After the train's passage is blocked by heavy snowfall, it is stuck overnight between the two Slavonia towns. Subsequently, a murder takes place.
Brod is mentioned several times in the book and is the final station within the story. Furthermore, its mention is made in each of the so-far filmed versions. Although, in the latest, Kenneth Branagh's star-studded 2017 effort, the snowy Slavonian landscape is depicted as Alpine and mountainous. In truth, the train journey between Vinkovci and Brod, like all the surrounding terrain, is completely flat.
Slavonski Brod Weather
The city of Slavonski Brod has a continental climate, with warm and humid summers and cold winters. The hottest months are July and August, with July also being the wettest. This region is prone to sudden, powerful rainstorms in summer afternoons. Generally, they don't last too long and the cool, fresh air they bring is welcome. Slavonski Brod benefits from around 831 mm rain per year by being extremely green, with trees and grassland surrounding the city. May, June, September and October are very pleasant times to visit. Although, the Sava river guarantees that Brod is fun and cool even during the height of summer. If you want to check out the weather forecast for Slavonski Brod, then look below.
Where is Slavonski Brod? Map
Slavonski Brod is located in eastern Croatia and is one of the principle cities within the historical regions of Slavonia and Posavina. Brod sits on the Sava river, which here serves as a natural border between Bosnia and Croatia. Indeed, its location meant that, historically, Brod was an important river port. Facing Slavonski Brod on the opposite shore is a settlement referred to as Bosanski Brod. Today, Slavonski Brod serves as the state capital of Brod-Posavina County. Its zip code is Slavonski Brod 35000 (postal code). GPS coordinates for Slavonski Brod are 45.1631° N, 18.0116° E .
How to get to Slavonski Brod and get around
Plane
At a distance of just over 100km, Osijek airport is the nearest airport to Slavonski Brod. However, there are three much larger international airports all within striking distance. Namely, Zagreb (186km), Belgrade (191km) and Budapest (361km). If you want to learn more about flying into the Croatian airports, then check Osijek here and Zagreb here.
Road
By road and rail, Slavonski Brod is the best-connected city in Croatia's east. By road, Brod sits on Croatia's biggest east-west motorway, the A3. This connects Zagreb to Belgrade via Slavonski Brod. Also, via the A3, Brod is just 35 kilometres from European route E73. Running north to south, this connects central Hungary with south Dalmatia, via Slavonia and Bosnia. It is the quickest way to reach the Adriatic from Brod in a car.
Slavonski Brod Bus
Without question, the A3 is the quickest way to reach anywhere in Slavonia from Zagreb. Subsequently, almost every intercity bus travelling between Zagreb and Osijek, Vukovar, Vinkovci and Đakovo stops here. The journey time is around 2 hours and buses are extremely frequent. If you want to know more about travelling Croatia by bus, then look here. The local bus operator in Slavonski Brod is Terzić, whose website you'll find here. If you need to reach a suburb of Slavonski Brod, then theirs are the buses to take. A single journey ticket with Terzić costs 8 kuna.
Train to Slavonski Brod
There are two, long, east-west rail arteries running through eastern Croatia. Firstly, Varaždin to Osijek, via Koprivnica and Virovitica. At Koprivnica, this meets the high-speed rail line running between Zagreb and Budapest. However, it is still quicker to travel from Zagreb to Slavonia by train using the more southerly rail artery. Specifically, this line runs from Zagreb to Vinkovci via Nova Gradiška and Slavonski Brod. Trains are frequent, with the quickest journey taking just under three hours.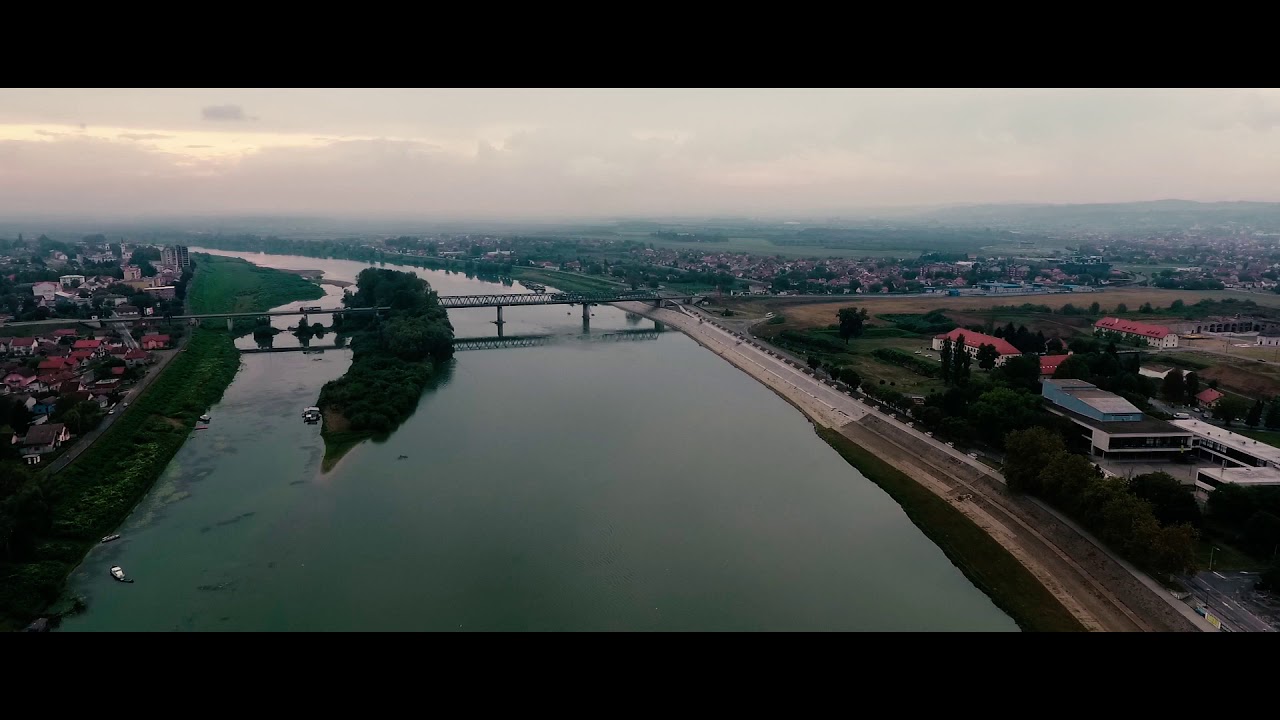 More information
The author of this guide has spent approximately 1 hour inside Slavonski Brod. Despite many attempts to contact the Tourist Board of Slavonski Brod and the Tourist Board of the County of Brod Posavina for help with this guide, sadly, no communication took place.
Therefore, both the author and Total Croatia must SINCERELY thank the following Slavonski Brod residents and local patriots for their invaluable help in writing this guide; local photographers Ivica Krpan, Matija Caban, Marica Marinić, Ivica Galovic, Čika Mata, Branko and Angelo Skoković. Also, Stjepan Tonković and the entire community of 'Dodaj fotografije Slavonskog Broda'. Additionally, local guides Goran Stajic and Vera Pudic plus Ivan Đukić and the cheffing community of Slavonija. Furthermore, particular thanks to Nikola and family Knežević, families Brlić, Mažuranić and Ružić. Thank you!
If you want more information about visiting Slavonski Brod and the wider region, then try contacting the following
Brod-Posavina County Tourist Board
Address: Petra Krešimira IV. 1, 35 000 Slavonski Brod, Croatia.
Email: This email address is being protected from spambots. You need JavaScript enabled to view it.
Telephone: +385 35 408 393
Website: tzbpz.hr/
Facebook: facebook.com/
Slavonski Brod Tourist Board
Address: Trg pobjede 28/1, 35000 Slavonski Brod, Croatia
Email: This email address is being protected from spambots. You need JavaScript enabled to view it.
Telephone: +385 35 447 721
Website: tzgsb.hr/
Facebook: facebook.com/TZGSlavonskiBrod
If you want to get the latest news for Slavonski Brod, then check Total Croatia News here.