Welcome to Omiš in Croatia!
Croatia gets lots of different kinds of visitors. Both luxury yachts and cruise ships sail the islands and famous seaside cities. Certainly, for most on board, this is a once-in-a-lifetime trip, one ticked off the bucket list. Afterward, they'll tell the tales to folks back home. Also, backpackers and festival goers jet in. Altogether, they're a much faster-moving breed. Without a doubt, they'll try to cram as much as possible into their time. Subsequently, their social media accounts are filled with myriad different photos.
However, there's another type of visitor to Croatia, one who is perhaps more discreet. And that is the visitor who returns year after year, mostly to the same place. But, with so much to do and see in Croatia, why would anyone do that? Well, often it's because they've found a place they love, one which cannot possibly be bettered. Summers in Omiš and on the Omiš Riviera are filled with such guests. Quietly they arrive and quietly, satisfied they leave, almost as if Omiš were their own little secret. It's easy to see why. Because, once you've been let in on this secret, it's one you'll also dream of returning to.
Why visit Omiš?
Sitting roughly midway between Split and Makarska, like much of Dalmatia, Omiš and its riviera are blessed with beaches. However, the town's position on the great Cetina river expand its offer immensely. Not only is all the usual Adriatic fun available here, but also white water rafting and Croatia's most-famous zipline.
Indeed, so popular are activities in Omiš that half of the people on them seem to be day trippers from Split. Additionally, the town is full of great gastronomy, atmosphere, music and history, its wider region brimming with heritage and culture. After experiencing its unique and varied offer, it soon becomes obvious why many wouldn't trade their annual holiday to Omiš for anywhere else.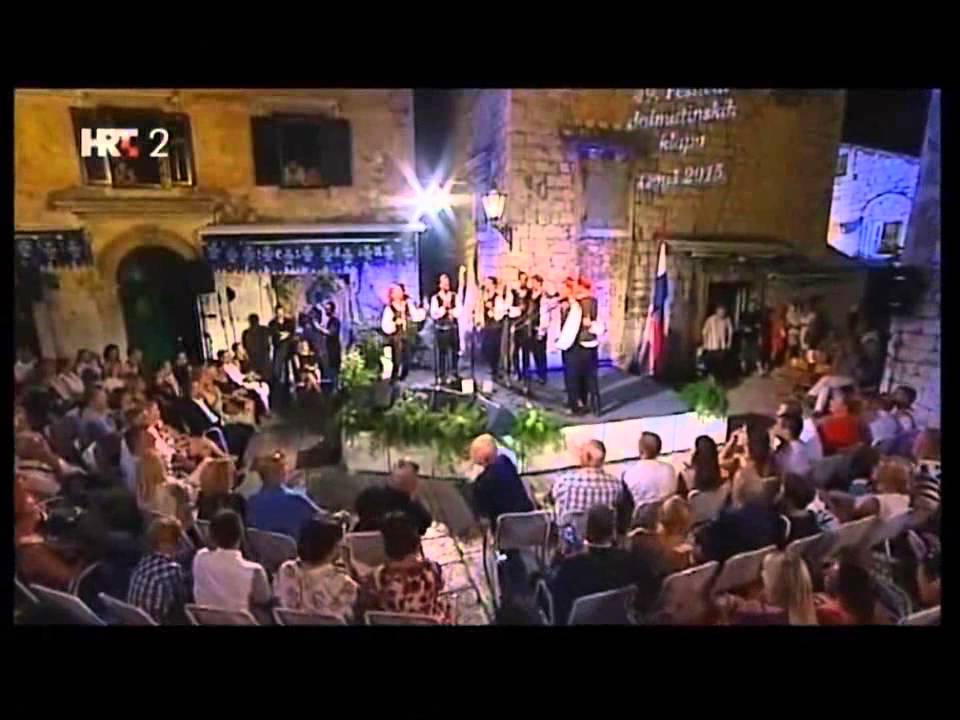 Top 5 best things to do in Omiš
1) Activities in Omiš: Zipline, Cetina rafting, Canoe, Hiking, Kayak, Parasailing, Windsurfing
Omiš Zipline
The zipline in Omiš is probably the most famous one in Croatia. Certainly, with its Cetina river canyon backdrop, it is the most spectacular. Accordingly, we've given this fantastic activity its own section (directly underneath).
Omiš Rafting Cetina and its white waters
With the river mouth being wide as it meets the sea, in Omiš the Cetina flows powerfully but uninterrupted into the Adriatic. However, it doesn't always look this calm. Cetina rafting is the best way to get up close to the river's true nature.
From a start point some 20 km from the coats, the rafting Cetina route passes through a varied topography. Not only are there narrow, fast-flowing river sections between rocks, but calm, wide pools in which you can swim. Moreover, the entire three-hour journey runs through the river canyon's pristine wild nature.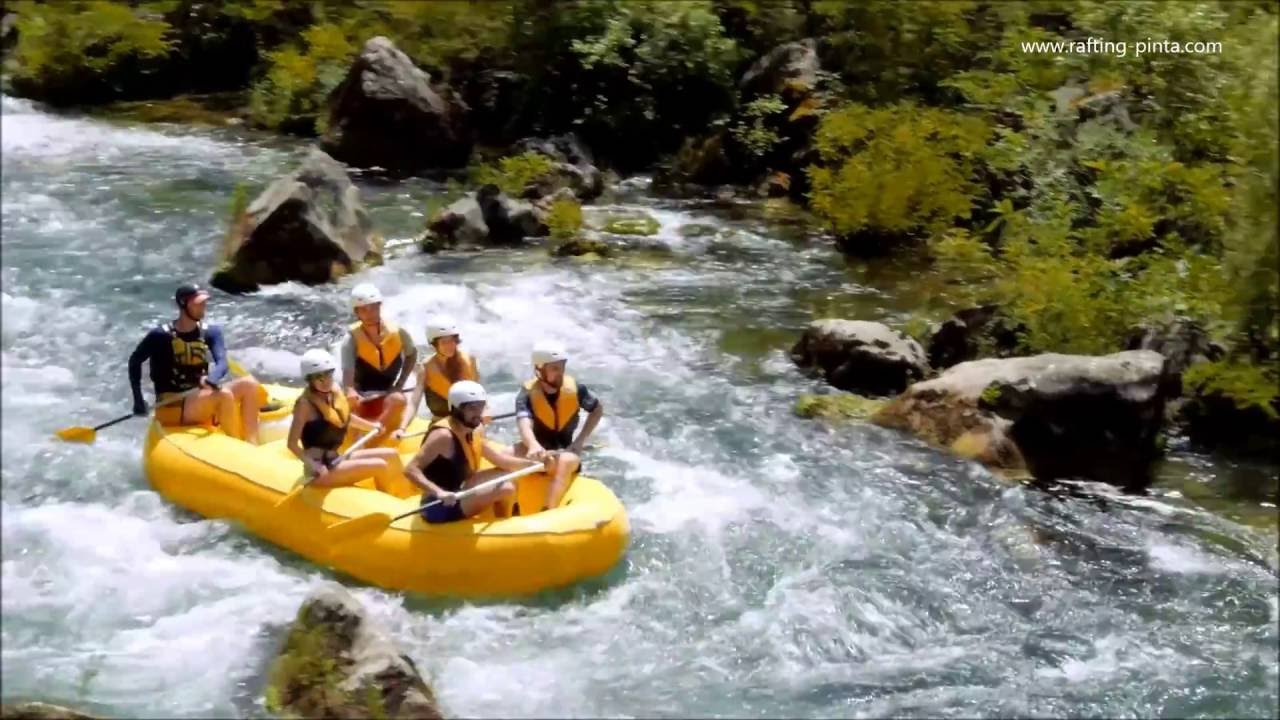 Rent a canoe or kayak to explore
Although white water rafting suits the Cetina upstream, closer to town the river changes. Markedly, the last eight kilometres or so widen. Subsequently, the river becomes a smooth expanse of green-blue with a wide floodplain full of vegetation. Not only is this a rich natural habitat, but also the scenery is breathtaking. While the rock cliffs in the distance provide an epic backdrop, the reed banks are best viewed close up. Certainly, the best way to do that is by kayak or canoe.
However, renting a canoe is not an activity restricted to the Cetina. Indeed, all along the riviera, from Stanići to Mimice and beyond, riding immediately atop the waves is a great way to enjoy the Adriatic.
Hiking, canyoning and free climbing
Whether high on the hilltops or deep in the river canyon, the topography and views around the town are superb. Not only do they delight the eye, but also they provide a landscape perfect for a variety of activities. Although you might stay dry hiking the hills, there's little chance of that happening on a canyoning excursion. Additionally, some of the area's karst rock faces are perfect for free climbing.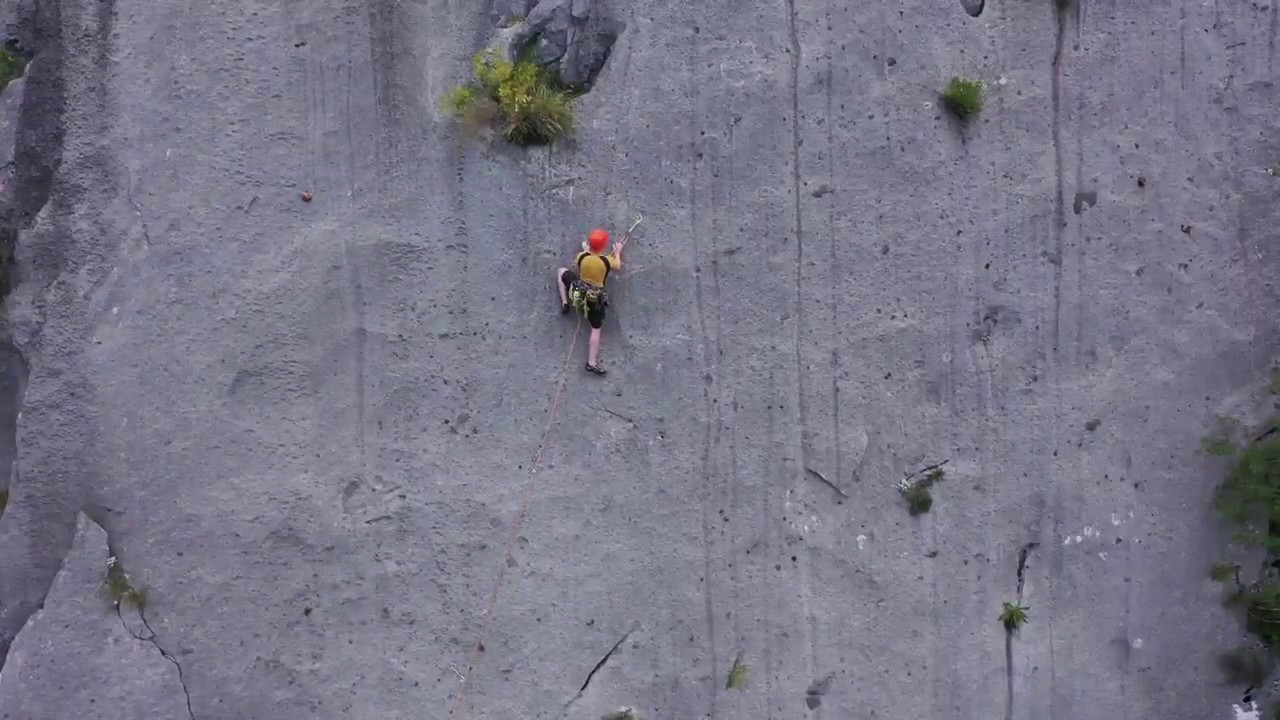 Parasailing and windsurfing in Omiš
Notwithstanding the reliably great sunny, summertime weather, the riviera can be a great place for windsurfing. To clarify, strong winds are not going to bother anyone on the beach. However, the river canyon does allow a unique flow of air. In summer, this gives enough warm breeze for your sail, while at other times of the year there are speedier conditions. Specifically, the best places for windsurfing are the river mouth and Lokva Rogoznica. Additionally, you'll find parasailing offers on several riviera beaches.
Diving
Generally, the land slopes gently into the sea on the riviera. Subsequently, the beaches are a fun place for snorkeling. Especially as the waters are so clear - you're bound to see fish. In fact, it doesn't take much more effort to catch something spectacular. Specifically, at a depth of only three meters near the city beach there's a sunken ship from World War II.
However, for more experienced divers, deeper waters hold a treasure trove. Firstly, there's another sunken wreck off the coast at Medići. Furthermore, Vruja bay at the end of the riviera is one of the best diving spots on the Adriatic. This is the result of a deep, underwater spring emerging here. Subsequently, the constant mix of fresh and seawater creates a habitat teeming with life. Moreover, accomplished and accompanied divers can descend to 100 metres here.
Cycling and mountain biking
If you're looking for a great way to explore the wider Makarska Riviera, then bicycling is a great choice. During a gentle journey, you'll discover quiet fishing villages, uncrowded beaches and bays. However, if you're a cyclist who prefers a challenge, there are routes that rise away from the shore.
Over recent years, the town's Coast Riders team and community have turned old hill paths into mountain biking trails. Not only do they have beginner routes, but also challenging downhill and endurance tracks for experienced riders.
Chasing the view

Drone, gimbal, sea, fails - our new video has everything! What do you think about it?

Posted by Coast Riders on Tuesday, June 13, 2017


READ MORE about the Cetina river in our detailed reportage, as our writer follows the Cetina from its source to the Adriatic - what it actually feels like to do some of these activities in Omiš.
2) Explore and enjoy Omiš beaches along the whole Omiš Riviera
Town centre Omiš beach
Usually, the city beach is the one best avoided. Generally, it's used as a convenience, a cooling dip after work. Emphatically, that is not the case with Omiš city beach, which holds a Blue Flag.
Nemira
Connected to Omiš by a shoreline promenade, you can easily walk the 3 km east to the village of Nemira.
Stanići
Previously famous for farming and fishing, these days it's the long beaches for which Stanići is better known.
Ruskamen and Lokva Rogoznica
Diving, windsurfing, tennis and volleyball are just some of the coastal activities on these great beaches. However, Lokva Rogoznica also has a historic village centre in the foothills which is good to explore.
Medići
The variety of beaches in Medići satisfies all. Not only are there larger, family beaches, serviced by cafe and bars, but quiet secluded options.
Mimice
Established in the 17th century, as well as its fabulous coastline, there's interesting historic architecture to see here. Case in point, the Church of St Roko.
Marušići
Trying to find a complete escape from the crowds and a secluded beach spot just for you? Look here.
Pisak
Lastly, the village closest to Vruja bay, in Pisak you can get a meal overlooking boats on the harbour, or even rent one to explore.
3) Incredible history and architectural heritage: Omiš Old Town, Pirates, Fortresses
Throughout the 12th and 13th centuries, pirates ruled the sea from Split to Dubrovnik. If ships were passing the mouth of the Cetina, then they had to pay a tax. Or, risk a fight for their cargo. Because the pirates were based in Omiš. Not only did their duration in the town help to shape it, but also you can still see today remnants of their reign.
Omiš Old Town
Hands down, the atmospheric alleys and squares of Omiš Old Town are a match for any of the more famous city destinations in Dalmatia. Owing to defensive walls that once surrounded, these streets and squares retain their narrow, medieval plan. Although the walls were eventually removed, you can still trace their line. Furthermore, throughout the Old Town you'll see historic stonework, plaques, churches, famous inscriptions, archways and the town coat of arms.
Mirabela Fortress (Tvrđava Mirabela)
Standing immediately above the Old Town, Mirabella Fortress is the most recognisable man-made symbol of Omiš. Accordingly, it is lit beautifully after dark, allowing it to preside over the town both day and night.
Built in the 13th century, it stands on the site of the old pirate lookout point. These days, you can walk up and see the same view of Brač channel they once had. Not only is the tower easily accessible, but it also offers a brilliant vista of the entire town. The entrance to Mirabella Fortress is next to the largest church in the Old Town, the Church of St. Michael. And the entrance fee is 20 kuna. (except from 1st July - 31st August, when it rises to 30 kuna).
Starigrad Fortress (Tvrđava Starigrad-Fortica)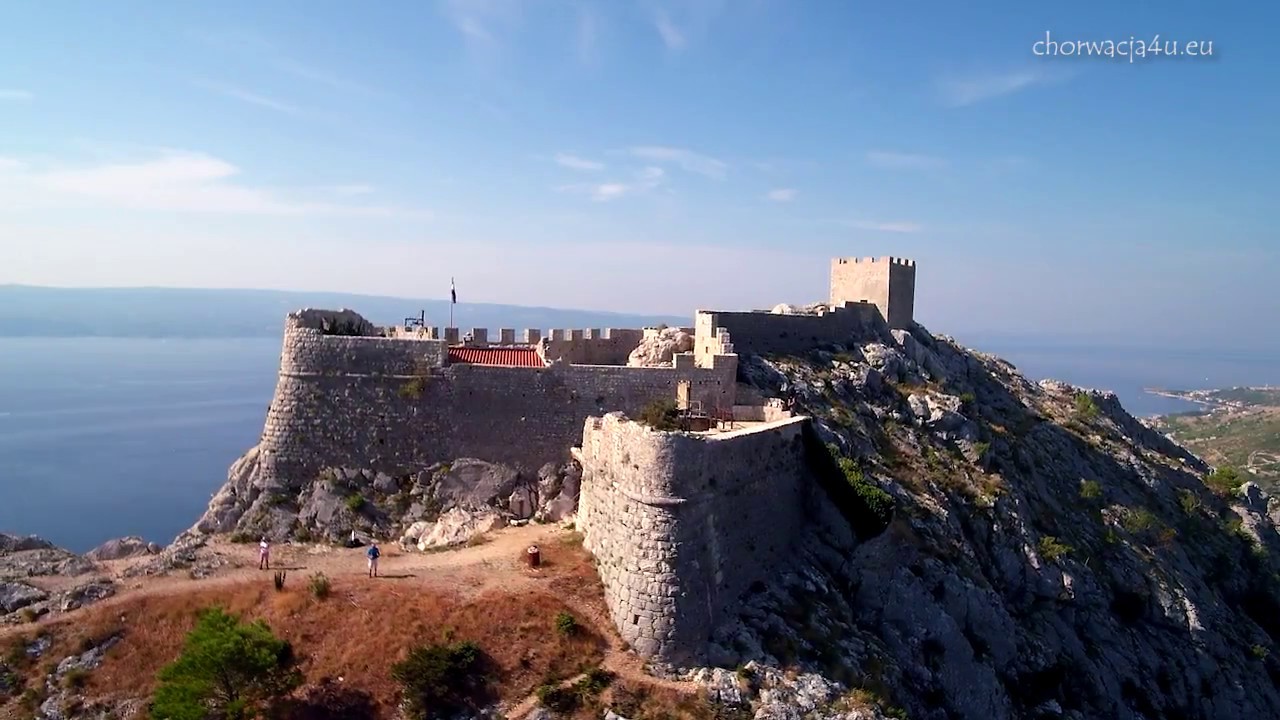 Important to realize that, unlike Mirabela, Starigrad Fortress is a more dedicated and demanding climb. Although, there is a well-marked path. And, if you're in OK physical shape, you'll reach it in about an hour. Is it worth the trek? Certainly, this 500-year-old building should be on your list if you're here more than a day. Because your reward will be one of the most epic Dalmatia has to offer. Not only will you see the entire town below and the Cetina canyon, but also Brač, Hvar and Šolta islands.
4) Savour Croatia's most unique coastal menu and rare wines
Whether you're a seafood lover or not, the Mediterranean diet is famously healthy. Coupled with fresh seasonal produce and superior olive oil, meals here are often as unforgettable as the sunsets. However, much of the menu can be found anywhere on the Mediterranean. By comparison, the menu in Omiš is distinct.
Specifically, prawns, shrimp, eels and frogs are part of the varied offer. To be sure, it isn't just thrilling activities that the Cetina river provides. Not only are some dishes near unique on Croatia's coast, but also so too are some of the wines. Both coastal Dalmatian wines and much rarer inland varieties from Imotski are served here. Find out more about the town's distinctly different menu here.
5) Discover the hidden history, heritage and culture of the Omiš hinterland
The Republic of Poljica (Poljička Republika), the first democracy in Croatia
Dubrovnik and its walls are world-famous, its history as an independent city-state also well known. However, Dubrovnik is not Croatia's only historic independent state. Actually, the Republic of Poljica (Poljička Republika) existed for around 600 years, from the 13th century. Furthermore, its written statute and annual elections pinpoint it as the birthplace of democracy in Croatia. Certainly, Dubrovnik had no equivalent voting system and the Poljica Statute was unlike any other in the region.
Owing to its strong independence (and its aid to Montenegro and Russia), the republic was finally crushed by Napoleon's armies in 1807. Thereafter, the republic was deliberately broken up into different administrative regions, ensuring its unity was destroyed. However, it has today been re-established as a cultural region. Furthermore, a fascinating museum dedicated to the republic now stands at its heart, on the west of the Cetina, in Gata.
Mila Gojsalić and the female heroes of the Omiš hinterland
Despite some regarding Croatia slow to emerge from a patriarchal system of society, the area around Omiš is actually known for its heroines. As a matter of fact, in the historic time from which they stem, the reputation is near unique in the region. Certainly, Mila Gojsalić is the most famous.
Although there are several different embellishments to her story, the common legend has it that she infiltrated an Ottoman camp and blew up the munitions stockpile. A gloriously positioned statue of her by the world-renowned Ivan Meštrović stands in the hinterland, overlooking the Cetina and Omiš.
Soparnik (Poljički soparnik)
Protected at an EU-level as Poljički soparnik, this chard-filled pastry is unique to the region. Indeed, other than a bakery in Split and one restaurant in Zagreb, you'll likely not find it anywhere other than here. Although, that is regrettable. Not only is it one of the most authentic foods in Croatia, but also it is delicious. Previously covered by us, you can learn all about it here.
Kučićki bubnjari, drummers of Kučiće
In the village of Kučiće, an incredible sounding of drums traditionally replaces celebratory church bells on the days of the Last Supper and Good Friday. Explicitly, the practice is a unique part of Kučiće's cultural and religious heritage. Not only can it be heard across the whole village, but also it only ever happens on these days. Specifically, the drummers are called Kučićki bubnjari.
Kučićka špica
Certainly, if you ask someone from Zagreb, the word špica describes a Saturday morning coffee ritual. However, in the Omiš hinterland, it means something different entirely. Basically, špica is a meat skewer, cooked on rotation over hot coals for a full hour. But, it's very distinct. Specifically, the meat used is mutton (bravetina), which itself is not common in Croatia these days. Not only does the sheep age produce a fuller-flavoured meat, but also the build-up of fat necessary for this dish. Towards the end of cooking, the skewer is sprinkled continuously with flor, preserving the fat and making the dish crispy. Some think the dish originally comes from South America, brought back by Croatian returnees. Despite being found in several places 'behind the hills', again, this tradition is most closely associated with Kučiće.
Zipline Omiš
Without a doubt, the zipline in Omiš is currently the most spectacular in Croatia. As a matter of fact, with the unique Cetina river canyon as a backdrop, it would be near impossible to lose its standing. Actually, the zipline is actually a run of eight separate lines, at points travelling 150 metres high. Not only do you race down over treetops, but also across the Cetina itself. Indeed, the Cetina river and canyon look incredible from here.
In detail, the total length of cables is over 2000 metres, the longest being 700 metres. Although not every line is as high as 150 metres and passes over water, the view from each is breathtaking. Furthermore, you should set aside a suitable amount of time for the activity. Specifically, for a group of ten, plus two guides to complete Zipline Omiš takes two and a half hours.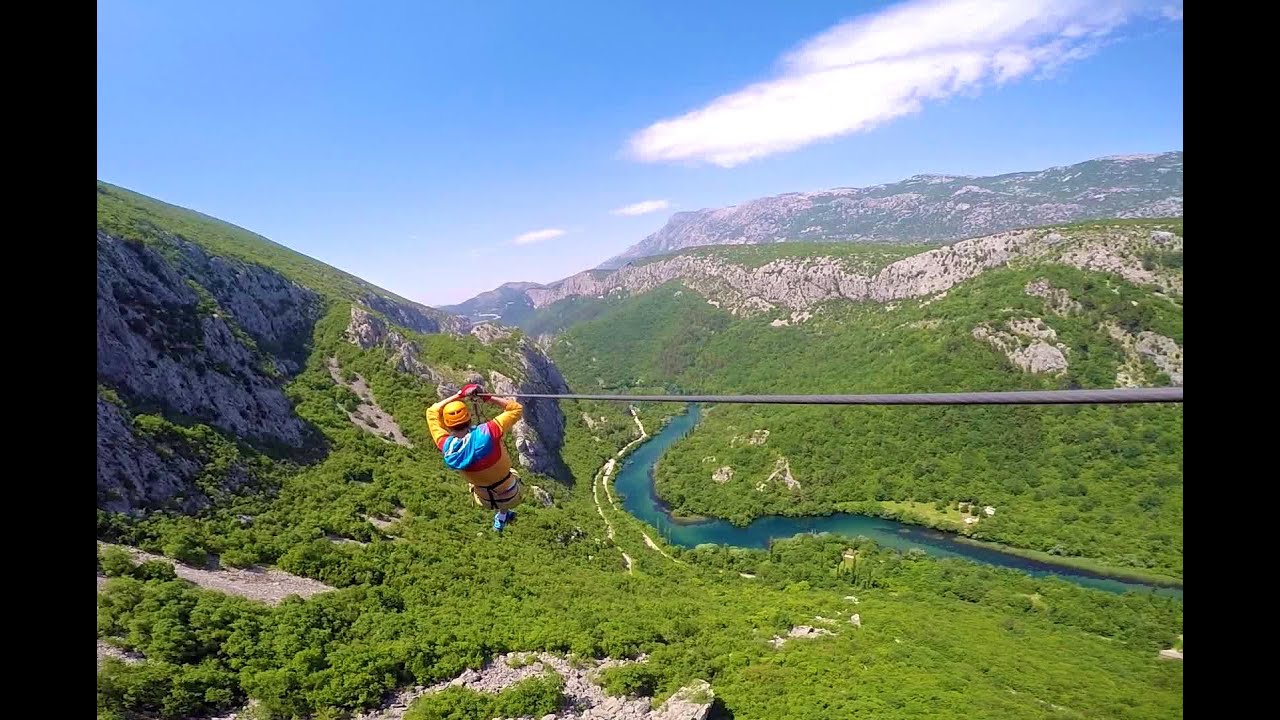 Zipline Omiš price
The price of the Omiš zipline is 400 kuna per person. The price includes every aspect of the activity. Specifically, you will be transported from the Zipline Omiš office in the centre to the nearest access point by road. Thereafter, a zipline guide will take you on the short journey up into the hills. Not only does the Zipline Omiš ticket and price include instruction on how to use the zipline, but also all safety equipment. In detail, you must wear the gloves and protective helmet provided. A guide to the Omiš zipline equips you for one stage of the run at the starting station, while another will be there to meet you as you reach the next. Finally, the Zipline Omiš price includes transportation back to the city.
Tickets for Zipline Omiš
The booking office for Zipline Omiš is located at Josipa Pupačića 4, Omiš. You can buy tickets for Zipline Omiš there. You do not need to pay in advance. Actually, you can just pay when you arrive at the office. Specifically, you can find the office in Omiš Old Town on the Poljička square, along the river Cetina, 100 m from the bridge towards Radman's Mills. However, you can book online for Omiš zipline here. Certainly, if you're traveling for Zipline Omiš, advance booking is strongly recommended.
Where to eat? Omiš restaurants
Omiš centre
Puljiz restaurant, a family-run restaurant with a 35-year tradition, nestled in the very heart of the Omiš Old Town. If you're looking for a brilliant seafood dinner and great wine, then head to the outdoor seating here. By comparison, the riverside views of Konoba Restoran Ćaća are best enjoyed by day. Although, the food of this quite modern eaterie is good any time. Not only is Restaurant Knez (attached to the Hotel Villa Dvor) serviced by two of its own organic gardens, but also it has breathtaking views.
If you're prepared to search the side streets for the perfect ambiance and wine list, then head to Restaurant Pod Odrnom. Similarly, Konoba Joskan is also a little hidden within the Old Town. But, if you're after brilliant, traditional cooking and a nice vibe, find it. Lastly, the family-run Konoba 'U našeg Marina' excels in well-cooked traditional dishes served in a welcome rustic manner.
Food on the Cetina
Specifically, Restoran Kaštil Slanica is located around three kilometres up the Cetina from Omiš. Subsequently, it's best reached by boat. But, the traditional food and riverside views are worth it. Similarly, Radman's Mills (Radmanove Mlinice) lies up the river and does great traditional food, including homemade bread. But, the huge, open-air terrace makes this place much more informal.
Riviera restaurants
Not only does the Restoran Kod Mije in Lokva Rogoznica have a great location, but also brilliant, fresh seafood. Notwithstanding the fancy plates and presentation, Restoran Rogač to the west of town knows how to treat seafood traditionally. Case in point, the grilled octopus, enjoyed with fine wine and superb sea views. Similarly, Konoba Bracera in nearby Dugi Rat has brilliant views and homemade food to match.
Where to drink
Important to realize, if you're looking for Omiš nightlife, this is not discotheque central. If you're looking for the bright lights and late nights of the big city, then Split is just 25 km north. Otherwise, adjust your body clock, wake up earlier and enjoy more fun-packed days in Omiš. If you do that, then you won't be hankering after late-night revellry.
That having been said, there is a wonderful ambiance to evenings on the Omiš riviera. Whether you're staying in the city or in one of the villages, you'll definitely find a place right for you. If you're in the city, just walk around the Old Town to scan the options. By day, the villages offer beach bars, by night, taverns welcome you to stay long after your meal ended. Most compelling evidence that you've found a great place will be if they stock the craft ales made locally by Pivovara Barilo.
Omiš weather Croatia
Like all of coastal Dalmatia, Omiš has a classic Mediterranean climate, with long, hot summers. Indeed, many days of sunshine can be all but guaranteed here. What's more, you can usually wear shorts and a t-shirt from April until November. Wondering about weather Omiš May? Pondering the weather Omiš October? Point often overlooked is that summers are extended here. Indeed, it's warm enough in the sea to swim from some time in May right the way to October. Here's how the weather in Omiš looks today and the Omiš weather forecast for the rest of the week.
Sat
Sun
Mon
Tue
Wed
Thu

+

13°

+

15°

+

16°

+

15°

+

12°

+

13°

+

6°

+

8°

+

10°

+

10°

+

6°

+

5°
Where is Omiš? Omiš Map
Omiš is the northernmost settlement and only city of the Omiš Riviera in Dalmatia, Croatia. It faces the island of Brač and is roughly halfway between Split and Makarska. Specifically, it is in modern-day Split-Dalmatia county. In detail, its GPS coordinates with respect to latitude and longitude are 43.4434° N, 16.6929° E. And the Omiš zip code is 21310 Omiš Croatia (postal code).
View Larger Map
Where to stay in Omiš? Omiš hotels, accommodation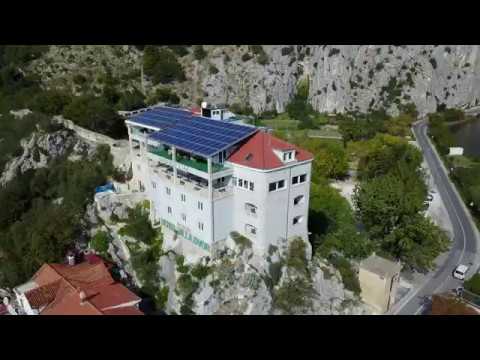 Certainly, the range of Omiš accommodation options holds something for everyone. Not only can you find secluded, top-flight villas with pools, but also campsites and hostels. If you're looking for apartments and villas along the Omiš Riviera, then check the usual booking platforms. However, if you're after a city centre hotel stay, there's nowhere better than Hotel Villa Dvor. Not only do its restaurants have the best views of Omiš, but also you can just come for coffee to enjoy them.
Top day trips
Visit the UNESCO Diocletian's Palace in Split
Around 25 km north up the coast is Croatia's second city. Subsequently, Omiš Split is a super easy journey to make. And, everyone should walk around Split Diocletian's Palace once in their life. In fact, it's the perfect big city for a day trip. Because there's so much to do and see. Furthermore, the route Omiš Split is easy by car or bus. Specifically, it takes less than 30 minutes to travel from Omiš to Split. Find out more in our guide to the city of Split.
Island hopping: Hvar, Omiš to Brač island by boat or ferry
With the famous island of Brač constantly tempting you from across the water, it'd be a shame not to give in. Certainly, you can take boat trips locally. Specifically, the small harbour by the city fire station is a good place to look. Not only can you there find organised day trips to Brač, but also Omiš to Jelsa on Hvar. However, a super cheap option is the walk-on ferries and catamarans from nearby Split. They run very regularly. Furthermore, they're an inexpensive choice for the routes Omiš to Brač ferry or Omiš to Hvar by boat. Here's how to get from Split to Brač and here's how to buy tickets for Split ferries.
Get the best views in Dalmatia from Biokovo Nature Park and the Skywalk
40 km to the south of Omiš, the 200 km² of Biokovo massif is a Nature Park. Rare flora and fauna live here. And, they sometimes reveal themselves while walking or hiking the mountains. Or on a guided tour. Although, you can visit the summit by car if you don't fancy the walk.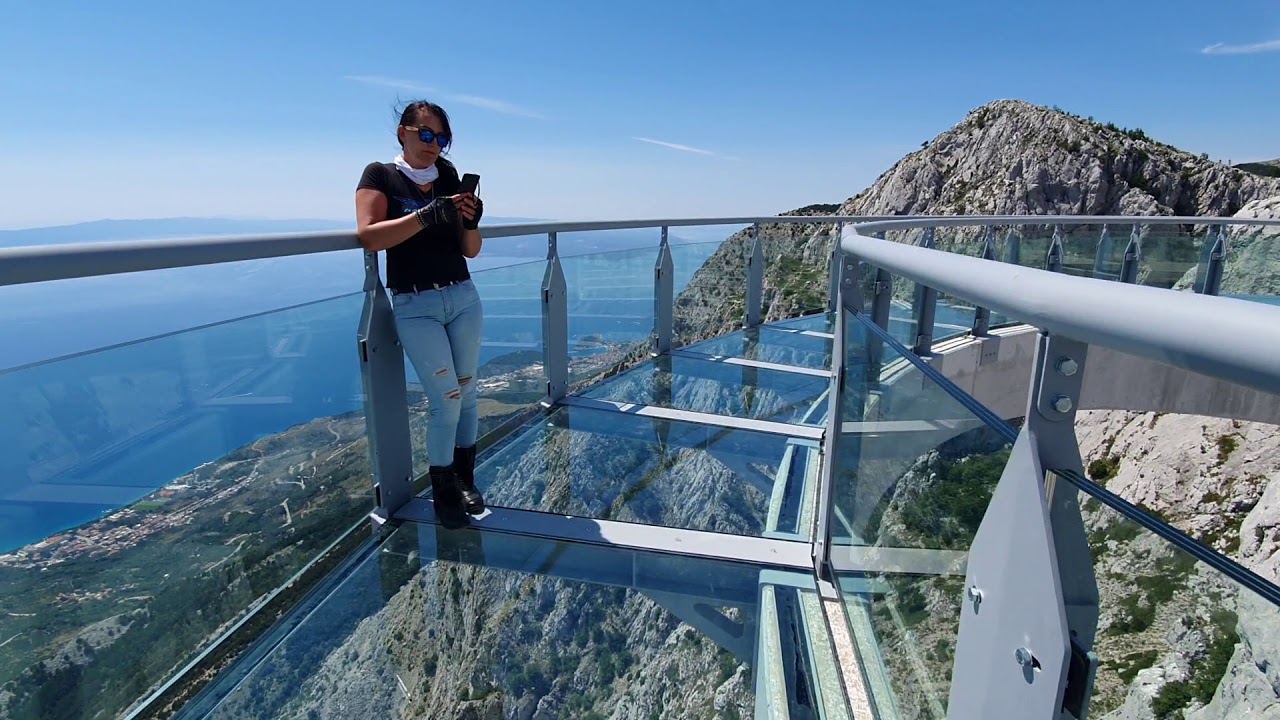 At 1422 meters, Vošac is the highest point. Its views are some of Croatia's best. In fact, nearby there's the thrilling Skwalk attraction. From there, coastal towns look tiny below you. Across the shimmering expanse of blue, the island of Brač. And, behind it, Hvar. Read more about the epic Biokovo mountain and the Biokovo Nature Park in our guide.
Vineyards, wineries and lakes in Imotski
At just over 55 km distance between Omiš and Imotski, there are nearer and easier day trips. However, Omiš and Imotski have a closer connection than you might think. Because the Omiš hinterland is dominated by the Cetina river valley and, on each side, secluded villages rising up into the hills and mountains, the topography is specific. By comparison, that belonging to Imotski is very different.
In detail, rather than a river gifting its activities, Imotski has 11 lakes perfect for exploring. Moreover, its Blue Lake offers a unique freshwater swimming experience. Furthermore, the hills on which it sits are well suited to growing some very distinct grapes. For this reason, the wine of this reason is the 'local' wine of Omiš. So, if you want to find out more about your wine, this is the place to visit. And you can read up more about Imotski in our guide.
How to get to Omiš and get around
Flights to Omiš, nearest airport
The nearest airport to Omiš is Brač island. Although, that route obviously requires a boat journey to reach the mainland. Actually, for flights to Omiš and Croatia region central Dalmatia, the most popular airport is Split. In detail, the distance from Split airport to Omiš is around 44 km. Moreover, it takes around 45 minutes to get there by car. You can also make the trip between the two very easily by bus. For all you need to know about Split airport look here.
Road, by car
Omiš is well connected by road and motorway. If you're travelling Zagreb to Omiš or Dubrovnik to Omiš, it's the same E65 motorway and the same turn off. Specifically, exit the motorway at Blato na Cetini and drop down to Omiš from there. Actually, you can take the picturesque shoreline road. However, we'd only recommend doing so out of the main tourist season.
Looking for a fast, reliable and trouble-free transfer to or from Omiš? Contact TC transfer partner Adriatic Transfers for your one-stop solution.
Boat
Not only is it super easy to reach Omiš by boat, but it's also a great way to arrive. In fact, the nearby ferry port in Split is Croatia's busiest for passenger boats. Thereafter, it's just a very quick drive by car or bus to Omiš.
Omiš bus: local and intercity
Travelling intercity by bus in Croatia is a fast, popular and reliable option. Indeed, you can easily reach Omiš by bus from anywhere in Croatia. Furthermore, you're on a busy intercity bus route in Omiš. Not only do all buses between Split and Makarska stop here, but also all buses between Split and Dubrovnik. Learn more about travelling through the country by bus here.
Bus from Split to Omiš
Unless you have the gumption of a jellyfish, under no circumstances should you stand at the intercity bus station in Split waiting for a bus to Omiš. Instead, walk two minutes round the corner to the local bus stop and take local bus 60. Not only is it fast and very regular, but also it will cost you less than a cheap sandwich. However, if you're travelling from Split to further south on the Omiš Riviera, you will need an intercity bus. Because the last stop on the local bus is central Omiš.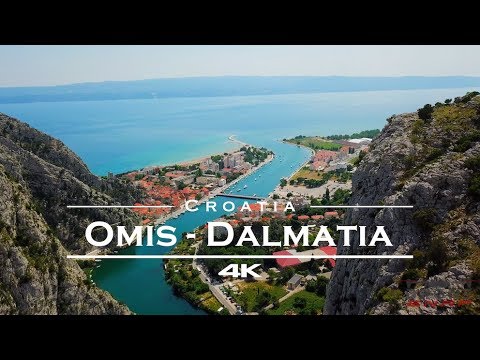 More information
For more information, you can contact the Omiš tourist board here.
To follow the latest news from Omiš, check out Total Croatia News.