Dubrovnik in a Page is sponsored by Sun Gardens Dubrovnik.
How to be a Dubrovnik Local
Many who venture to Dubrovnik fall in love with its main attractions and the historical centre. But those who stay for more than a few days often leave enamoured by the local lifestyle. While this too is changing in the ever-evolving world we live in, local lifestyle in Dubrovnik is generally very laidback and a bit slow. Aside from few unfortunate events in the city's recent history, modern living in Dubrovnik is pretty stress free. City's low crime rates, clean environment and amazing climate make outdoor activities very popular.
Dubrovnik's Coffee Drinking Culture
As already mentioned, sitting in cafés drinking coffee and talking about the problems of the world is by far the number one choice for locals. It is over coffee that Dubrovnik people will hold business meetings, socialise with their friends or go on dates. Sitting over coffee for hours is a crucial skill to master for all wannabe Dubrovnik locals.
Beach, Sports
Going to the beach is not a great luxury in Dubrovnik nor does it include getting the latest flashy swimwear. The beach is a daily dose of relaxant enjoyed throughout the summer and much of spring and autumn. Sports are enjoyed by many and they are usually football, basketball, water polo or tennis. Many sporting events, especially when it comes to team sports, end up with a trip to the local konoba (local type of restaurant serving simple traditional dishes). Which brings us neatly to…
Food and Dining
Much of Dubrovnik's social life takes place behind a table. Having friends over to your house usually means preparing a meal. Most of the time, it is a meal featuring way too much food for the number of people coming over. Local food and local wine is the most important Dubrovnik social binder and it has been for centuries. Cooking skills are an important addition to anyone's skill set in Dubrovnik.
How to meet the locals
Meeting Dubrovnik locals is not difficult if you how to pick the right situation. For example, a group of friends having a good time in a bar will probably not respond well to a single person or a couple they don't know trying to start up a conversation. It might be easier to get included in the conversation of a smaller group. Asking for some sort of a local advice is usually a safe way to start a conversation as most locals will be eager to help. If there is some sort of a big sporting event on featuring Croatian national team, you won't have any problems becoming a part of the group. All you have to do is cheer for the right team.
As elsewhere, service staff in restaurants and bars is usually quite busy and they don't have time to make friends. People engaged in similar interests like you will often be open about talking about it.
There are no specific things one should take into consideration in Dubrovnik as opposed to other European countries when it comes to meeting locals. Some people will be open to conversations, especially younger people, while other will let you know from the start they are not interested.
5 things Not to Do in Dubrovnik
1. Swimwear and Bikinis in the Streets
Many come to Dubrovnik because of the beaches and summer fun. But just because a certain area is close to the beach, doesn't mean it is socially acceptable to go there in your bikini or speedos. This is especially true within the historical centre where the local government even imposed certain penalties for such behaviour. Dubrovnik locals are not that shocked about half-naked bodies, but the fact is that certain parts of the Old Town deserve a bit of respect. Many of the churches in the historical centre are active churches with regular services. Going to a place of worship for a commemorative service, for example, and coming out to a group of drunken beach goers singing off key is objectively a situation you want to avoid.
2. Climbing Monuments, Churches and Railings on the City Walls of Dubrovnik
With many younger tourists around, there are often situations when they find themselves doing things they might not do back home. Whether because they've had a bit of "liquid courage" or because they are trying to impress their social media followers, some visitors to the city will sometimes climb a railing of the city ramparts over a 50 metres drop. At the time it might also seem like a cool idea to try and climb the face of an 18th century church. Most of these exploits just make people look stupid and sometimes they end very badly.
3. Littering and Trash
Dubrovnik has its problems with trash and litter as much as any other travel destination. Still, it is quite a clean city when considering the sheer number of people visiting in a short amount of time. This is not by chance. There are many people working hard to keep the city clean and it is a good idea to not give them more work than they need.
4. Asking for Information
Asking someone for help getting around is absolutely fine. As mentioned before, most locals will be eager to help. However, bugging someone at work with a list of questions you might easily find answers to online is not ok. So, keep this in mind when approaching someone for information. Starting off with a cordial greeting is always a good thing in the eyes of the locals. Generally, it is good if you can take a bit of time to get some information about the city before getting there. Then again, you are already reading this page so you will be well prepared. Well done, you!
5. Partying and Noise Levels
You know who likes to party and be loud? Croatians. So, locals will understand your excitement about being on a fun holiday with friends. The problem arises when your group is keeping an entire neighbourhood up at 2am on a work day. Dubrovnik is small. when staying here, chances are you will have plenty of local neighbours that are working and need their sleep. Many locals are working tourism and hospitality jobs making your dream holiday in Dubrovnik possible. Let them rest and you will be thankful for it tomorrow.
Respect the City
Rules of behaviour within Dubrovnik are well defined through a special program entitled "Respect the City" which is a project by the local government already yielding great results. You can find out more about the program here.
Digital nomads in Dubrovnik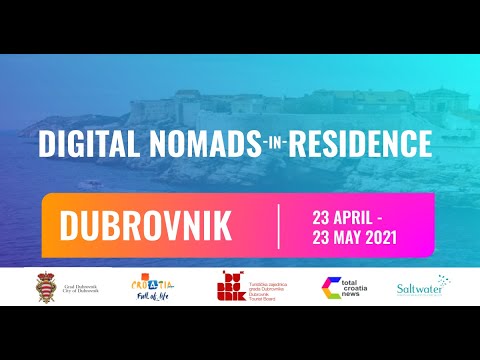 Dubrovnik has been one of the first destinations in Croatia to embrace the digital nomad opportunity. In October 2020, Croatia's first-ever nomad conference, Dubrovnik for Digital Nomads, was held. This was followed by the world's first Digital Nomad-in-Residence Program in April 2021.
At the press conference closing the DNIR program, Mayor of Dubrovnik, Mato Frankovic committed to providing a coworking space and to working to develop the digital nomad community in the city. You can find out more on the findings of the DNIR program on the dedicated TCN digital nomads section. For more on digital nomads in Croatia, check out the TC dedicated digital nomad page.
Real Estate in Dubrovnik
The real estate market in Dubrovnik has been a real roller coaster in the last 30 years. During 1980s, Dubrovnik was a popular travel destination generating tourism figures that are only now starting to be beaten. It was a coveted destination and a wonderful place to live in. Then came Croatian Homeland War of 1990s. Dubrovnik was under siege and suffered great destruction. After the smoke cleared, half the city was destroyed and city's economy was on its knees. Needless to say, the price of real estate was very much down.
Many people around Europe and the world knew about Dubrovnik and they believed in the city's comeback. So, they started buying properties and investing in their renovation. With rapidly increasing interest and very limited supply due to city's size, it didn't take long for the price of real estate in Dubrovnik to skyrocket. The city became too expensive for local people and it was in a real danger of becoming a victim of its success. Due to global shifts in real estate markets and other Croatian destinations becoming attractive to foreign investors as well, the worst scenario didn't happen. Instead, Dubrovnik's real estate market has become more stable, but no less interesting.
Should I Buy a Property in Dubrovnik?
If you are looking for investment opportunities in Dubrovnik, real estate is one of the most interesting option. The properties are not cheap, but they are usually very good at returning the investment through short term stay renting. This is true for apartments and studios within the city or houses for rent in the surrounding areas. With COVID19 hitting Dubrovnik's tourism hard in 2020, there are more real estate owners willing to sell and negotiate price than there were in the past decade. Buying a place in Dubrovnik's top areas will cost you, but it is one of the safest long term investments in Croatia. Providing you do not overpay dramatically, of course. This is exactly why you should always rely on the help of local experts when searching for a property.
What are the Best Areas of Dubrovnik to Buy Real Estate?
Old Town will always be the most attractive location, followed closely by the areas directly around it – Pile, Ploce, Sveti Jakov, and similar. With properties in these areas it is usually not about getting the best deal, but finding any properties on sale at all. The number is quite limited and the owners don't want to part with them. You can be sure there is a good reason for that.
Other than the historical centre, places like Gorica Sv. Vlaha, Vojnovic Street Area, Babin Kuk and Lapad are among the most popular residential areas with locals. Gruz is a busy hub and is perfect for those wishing to be centrally located. It is close to all the modern amenities of Dubrovnik and still within walking distance of the Old Town. Nuncijata and Kono areas vary in price depending on individual locations, but almost always guarantee great views.
For the best advice and selection of properties, both commercial and residential, check out the Savills/Dream Estates Croatia website.
English Speaking Dubrovnik
Majority of Dubrovnik locals speak English at least at a beginner level. However, it is often difficult for foreigners to find local non-tourism services that will cater to English speaking guests simply because they don't advertise to foreign customers.
Where Can I Find an English Speaking Doctor or Dentist?
Doctors and nurses in Dubrovnik's general hospital and emergency ward mainly speak English and are used to dealing with foreign patients, but they are often swamped with work. If you are looking for medical services, including PCR or antigen COVID19 tests, your best choice might be Poliklinika Marin Med, located in Gruz. This privately owned health clinic offers a number of services and has plenty of experience with Dubrovnik's visitors. Another great option is Poliklinika Glavic with its main location close to Uvala Lapad Area. While private health clinics are fairly new thing in Dubrovnik, dental services have been done privately for decades. There are many great dental offices in Dubrovnik with Dental Centar Jurisic being one of the most popular ones for foreign visitors.
Where Can I Find an English Speaking Veterinarian or Pet Store?
Having pet troubles while in Dubrovnik? There are a few options for you with Veterinary Practice For Small Animals Bobanovic being one of the best. Their office is in Lapad, on the address Ul. Kneza Domagoja 4, 20000 Dubrovnik. For pet food and supplies look no further than Pet Shop Scooby in Sipcine area.
Where Can I Find an English Speaking Hair Salon or Beauty Salon?
Many of the salons in Dubrovnik do have staff with some level of English language knowledge with some being very proficient. Consider Anja Hair Salon or Marijana Hair Salon. When it comes to beauty treatments, one to check out it Face the Day by Mia Jugovic, a face treatment and make up specialist.
Where Can I Find an English Speaking Lawyer or Notary Office?
Hopefully you won't need one in a hurry, but for English speaking legal services you might want to turn to Viktorija Knezevic and her legal office. Notary offices are very important if you are handling any business in Croatia. If you need one, you will not go wrong with Niksa Mozara Office.
Where Can I Find an English Speaking Architect or Builder?
Plenty of foreigners come to Dubrovnik for real estate. Finding a good real estate agent is not simple, but at least they advertise to foreigners. Architects and builders on the other hand do almost all of their work with local people. For English Speaking architects and builders turn to construction company Alfa Plan.
Where Can I Find an English Speaking Body Training or Yoga Studio?
When vacationing it is easy to relax and forget about our fitness and health goals. While gyms in hotels offer plenty of choice for traditional work out, there are other options around Dubrovnik. To make sure you don't miss your yoga practice while in Dubrovnik turn to We Du Yoga. For military style training, spinning or boxing style training visit Boot Camp & Cageball Dubrovnik and for high intensity interval training check out HIIT by Ana.