Krka National Park: an introduction
Can a destination have everything? Well, if it's Krka National Park then, yes. It's one of Croatia's most popular destinations. And also one of its most diverse.
First and foremost, it hits you with a knockout punch! Skradinski Buk waterfalls cascade widely into an impossibly pretty pool. Undoubtedly, it's the most popular and memorable section. But, this is just one of 7 magical waterfalls you'll enjoy here. And there's much more besides.
A Neolithic cave, Roman heritage, an eco-ethno village, hiking and cycling trails. In addition, the suspension bridge, the workshops, the monasteries... the list goes on. Prepare to experience one of the true wonders of Europe - welcome to Krka!
How to get to Krka National Park
Getting to Krka National Park couldn't be easier. It's just off the A1 Zagreb to Split motorway. Indeed, there's excellent signage for miles around. Moreover, Krka is very close to Sibenik and less than an hour from Split. Therefore, it's an excellent day trip from either.
Looking for a fast, reliable and trouble-free transfer to or from Krka National Park? Contact TC transfer partner Adriatic Transfers for your one-stop solution.
The National Park has five entrances. And, it pays to do a little research on the best one to aim for if you're driving. Here's a guide on the best entrances for the various attractions.
4 seasons, 4 experiences: when is the best time to visit?
Krka National Park is magical to visit at any time of year. And, each of the four seasons gives very different perspectives. Already visited in the hot summer months? Come back in the winter and enjoy the snow. It's a totally different experience.
Of course, most of the 700,00 annual visitors come in summer. Therefore, this is when Krka is at its busiest. As a result, numbers can be limited to 10,000 people at a time. But if you are flexible with your itinerary, there are fewer crowds in the other seasons.
And not only that. In November, the power of the water is often mightier still, due to higher water levels. Here's what Krka is like without the crowds on an overcast November day - simply divine.
Opening times and ticket prices
You can find 2021 prices for individuals, groups, and other tickets, on the official site. You can also buy tickets online.
Krka is open 363 days of the year (apart from December 25 and 26). There are reduced opening times out of season. And, not all entrances are open 12 months a year.
Official Krka National Park videos, by day and night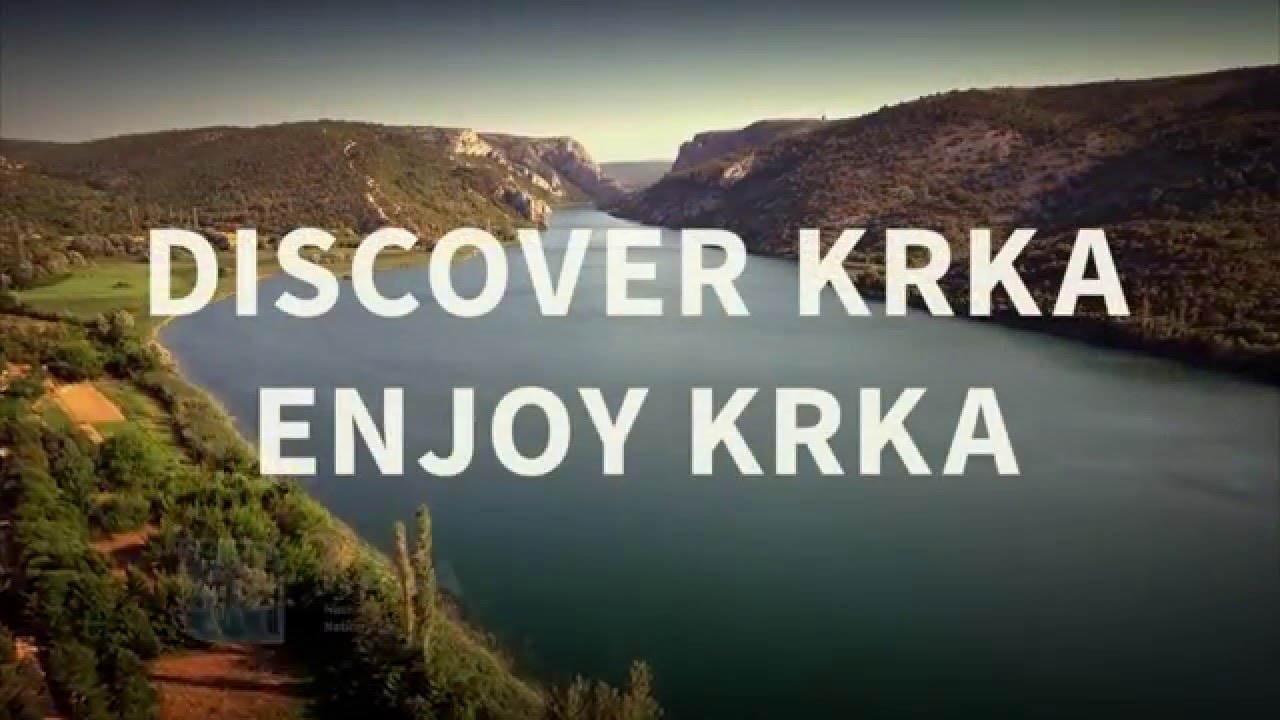 Krka National Park is one of Croatia's most active on social media. And it is constantly innovating to get its message across.
Above you can find an official promotional video of the national park. But, for something entirely different... Osijek timelapse maestros, Romulic and Stojcic. This stunning timelapse shows Krka as few people see it - at night.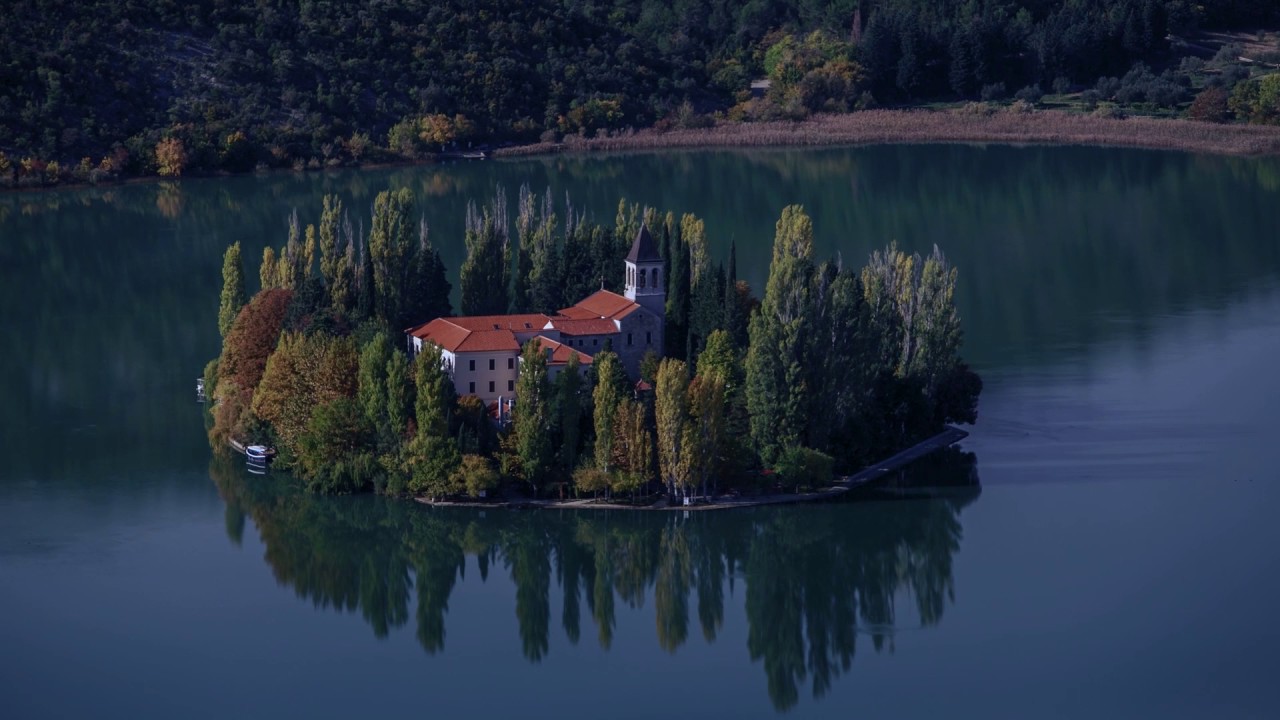 Krka National Park: things to see
Krka's five separate entrances demonstrate the size of the National Park. For many, Skradinski Buk waterfalls will be among the first impressive sights they see. But, they will by no means be the last.
Go back in time to the Roman era at Burnum. Alternatively, visit the Neolithic at the cave of Ozidjena Pecena. In comparison, though the Dalmatian eco-ethno villages are traditional, they're much more contemporary. Visit the monastery island of Visovac, or the Orthodox Krka Monastery. Hike the trails, cycle the 470km of bike routes, or check out the amazing suspension bridge. Find historic fortresses, join in educational workshops with the kids. And, if you are looking for a chilled way to explore, take a boat tour.
Ready to explore the main attractions at Krka National Park? Let's go!
Skradinski Buk waterfall
One of the great natural treasures of Croatia, Skradinski Buk waterfalls are by far the main spectacle at Krka. It's the largest waterfall in the park. Grab a bite at the (often busy) restaurant nearby. Previously, you were allowed to swim here. However, that is now forbidden. Don't worry! There are still places in the park where you can take a dip. Specifically, Stinice, Remetić - Pisak and downstream of the Roška waterfall.
Visovac
Krka National Park is huge. In fact, it's some 109 km2 in total. And the River Krka itself stretches an impressive 72.5 km. Without a doubt, the best way to get a feel for its size is by boat ride. Additionally, this lets you visit the Visovac monastery. You'll find it on a tiny island in the middle of the river. It's a serene place with outstanding flora and fauna. Strutting peacocks are some of the only permanent inhabitants.
A Franciscan monastery has stood here since 1445. Their community today allows tourist visits. Although landings are limited to 30 minutes each, you get a tour of the island, monastery, church and museum. Actually, the latter has an impressive archaeological collection, historical manuscripts, and allegedly the smallest book in the world.
Educational Hiking Trail: Stinice – Roski slap – Ozidjana pecina
One doesn't have to be in Krka very long before one thing becomes clear. Here is a National Park not content to sit back and let the wondrous nature do all the work. At every turn, education and enhancing the visitor experience are priorities. There are excellent hiking trails. Informative education points lie all along the way. The 8.5 km hike from Stinice – Roski slap – Ozidjana pecina is a nature lover's dream. There's an altitude difference of 176m. And, the walk takes 2.5 - 3 hours on average. Although, with views like the one above, you'd be forgiven for taking longer.
Ozidjana pecina cave
Krka National Park has a rich array of culture and heritage. One of the must-see places on the hike above is Ozidjana pecina cave. The presence of human habitation here is from 5,000 to 1,500 BC. An archaeological exhibition showcases this. Our Neolithic forebearers certainly chose a room with a view! Take a closer look with this TCN article.
Roski Slap
Roski Slap is a main waterfall of 22.5m with a plethora of cascades, backwaters and travertine islands. There are 517 wooden steps from here to Ozidjana pecina cave. Along the way there's an old Roman road and several watermills (some still functioning). In fact, they're are among the most prized ethnographic monuments in all Croatia. In comparison, a fraction of tourists see these waters and wonders than do Skradinski but.
Krka Monastery
Krka Monastery is the other spectacular waterside religious complex. Although, this one's on the mainland. And it belongs to the Orthodox faith. The monastery got its first mention in records as early as 1402. Catacombs below are of Roman origin. They testify to a much earlier existence. The monastery can be visited by boat or road from April to October.
Manojlovac waterfall
The third and, at 59.6m, the tallest of Krka's waterfalls. Manojlovac is just off the road from Knin to Kistanje. Many consider it the loveliest waterfall of all. Also, it comes with the Emperor's seal of approval. Because it was here that Emperor Franz Josef 1 and his wife Elizabeth came. You can admire the very same view. Their visit was immortalized in 2011 by a plaque. Subsequently, a trail was cleared and opened to the public.
Bilusica Buk
Just 9km downstream from Knin lies Bilusica buk, the first of the series of Krka's seven waterfalls. It's accessible from the roads from Knin to Kistanje and from Drnis to Oklaj. It is a diving spot. A 300m trail leads you there on foot. It's an impressive display of water. And one thing is guaranteed - you will hear it before you see it!
Burnum - amphitheatre and Puljane Eco Campus
The Roman military camp at Burnum was the seat of the XI legion of Claudiae Piae Fidelis and IV legion of Flaviae Felix. Additional cohorts were stationed in a small camp in the eastern part of the complex. Arches of the command building can still be seen. As can the only restored military amphitheatre in Croatia and several walls of the military exercising area. Access is only by road. In 2010, the Puljane Eco Campus opened. It showcases the region's archaeological artefacts and is open all year.
Choose from five historic fortresses
Croatia's history has rarely been peaceful. Indeed, invader after invader has passed through and occupied the country. Roman ruins are a testament to their occupation. So too do they tell of a battle at Krka. But, it was by no means the only one. In addition, early Croatian fortresses can also be found. In fact, some date back to the 14th century. Each command impressive views over the mighty Krka and environs. There are remains of five fortresses in all, Kamicak, Trosenj, Necven, Bogocin and Kljucica. Actually, the latter is one of the largest and best-preserved defensive structures on the river. Take a more in-depth tour of Krka's fortresses.
Ethno presentation
Visit the ethno presentation to see how life here once was. The watermills in the national park are not just renovated but filled with wonderful examples of traditions from a past era. Not only that, but they also encourage the education of young minds through regular workshops for traditional crafts. Notably, presentations include milling wheat, washing cloth and weaving. Also, horseshoe smithing, ploughing and planting. And there's traditional food preparation to help you build an appetite. TCN took a closer look at the ethno villages of Krka.
Pedestrian suspension bridge
Announced in 2019 and only for those with a head for heights! The suspension bridge links two fortresses, Necven and Trosenj. In fact, it'll be the third-longest in the world. And the second-longest in Europe. 462m-long, it will run some 140m above the river below.
Tourism and environment: pressure points
As with many other parts of Croatia, tourism in Krka is booming. Rising visitor numbers bring additional revenue. But, also pressures on the environment.
The National Park takes active measures to preserve the environment. These include limiting visitor numbers to Skradinski Buk waterfall at 10,000 at a time. You can read more about these efforts in this TCN report.
Useful contacts
KRKA NATIONAL PARK, PUBLIC INSTITUTE
Trg Ivana Pavla II br. 5, 22000 Šibenik
tel: +385 (0)22 201-777 E-mail:This email address is being protected from spambots. You need JavaScript enabled to view it.
Visit the official national park website for more information.
Office working hours: Monday - Friday, 07:00 to 15:00
You can follow the latest news from Krka National Park on the dedicated TCN page.