Imotski, lands of lakes, the authentic Dalmatia hinterland experience
Dalmatia has some of the best beaches you'll ever see. But, you're not the only one who'll have noticed. Indeed, at the height of a normal summer season, beaches and restaurants can fill up. And, that's alright for a while. But, if you're looking for a break from the bustle and buzz, head inland.
Nestled in hills on the opposite side of Biokovo mountain to the Makarska Riviera, Imotski is authentic, traditional Dalmatia. Moreover, less than 30 km away by road, the beach is never far from reach. But, in place of streets packed with people, after the sun goes down in Imotski, calm fills the air. Notwithstanding the gentle chirp of crickets in the bushes, an unfamiliar silence consumes. And, it seeps in. Although, it might take two or three days to acclimatise to the tranquility. But, once you do, the stress leaves you completely. Significantly, you feel both physically and mentally more relaxed.
Aside from the peace and seclusion of a villa or holiday house in Imotski, the surroundings are breathtaking. Not only do you get a different perspective of the Dinaric Alps but, also, Imotski has 11 UNESCO-impending lakes. Moreover, they are perfect for a variety of activities. Specifically, swimming, hiking, walking and cycling. With rare, indigenous grape varieties, there are wines to please any buff. And, the food of the Dalmatian hinterland is exceptional. It's a perfect mix of everything from the nearby sea, expanded by a continental edge. Furthermore, restaurant prices drop considerably the further you get from the sea. Bargain! Here's what you really need to know.
What to do in Imotski?
Though officially a city, central Imotski is not very big at all. Actually, it's a city by default. In light of there not really being a Croatian conurbation title like 'town'. Subsequently, definitions jump straight from 'sela' (village) to 'grad' (city).
While its centre is compact, that's not all there is to Imotski. In fact, its neighbourhoods are dispersed over quite a wide area. Whether clinging to hillsides or down on the floodplain, the wider town gives a truer taste of things to do. However, you'll have to leave the centre to find most of them.
The best things to do in Imotski
Unmissable Imotski lakes are one of the best things to do
Famous for its Blue and Red lakes, fewer people know about all of the Imotski lakes. In fact, there are 11 in total. Although many more folk may soon hear of them. Coupled with nearby Biokovo Nature Park, they've applied for UNESCO Geopark status. Unquestionably they are top-of-the-list of Imotski's attractions. So much so, we've devoted an entire section to them (below)
Explore medieval defences at Imotski Fortress
Overlooking the town's Blue lake, Imotski's fortress is one of the clearest indicators of the town age. Indeed, it's been populated since Neolithic times. Moreover, since the Romans were here, the town has held much the same name.
Considered strategically important, a central fortress has stood on this spot since at least medieval times. Although far from the structure it once was, the tower of Topana fortress still dominates Imotski's skyline. Actually, it overlooks the whole town. And, by exploring the site, you can share some of its views. Moreover, in summer, the fortress walls become the backdrop for music recitals and theatre.
Bicycling in Imotski
This is a landscape built for those who love to cycle. Accordingly, in 2017 the nearby 100 kilometre Ciro biking trail from Dubrovnik to Mostar was launched. It's a major international visitor offer. Not only does it run through a very similar topography, but also Imotski makes for a great start point. In fact, the 60 km from Imotski to Mostar is nearly all downhill.
Lakes, hills, waterfalls, vineyards and wild nature, all with an epic mountain backdrop. These are the views gifted by cycling in Imotski.
Walk, Hike Biokovo Mountain, its Nature Park, incredible views from the Skywalk
Biokovo mountain is inescapable. In fact, at 36 kilometers in length, it dominates the skyline of this part of Dalmatia entirely. Different from how it looks from the beach, the hinterland side holds more vegetation, more colours. In particular, as a backdrop for peaceful morning coffee on the terrace, the view is simply jawdropping.
The whole mountain area – almost 200 km² – is a Nature Park. Rare flora live here. And, so too do weasels, martens, horned owls, greyish eagles, serpent eagles, chamois and mouflon. The flora and fauna reveal themselves best while walking or hiking the mountain. Or on a guided tour. Although, you can visit the summit by car if you don't fancy the walk.
At 1422 meters, Vošac is the highest point. Its views are some of Croatia's best. The great town of Makarska looks tiny below you. Across the shimmering expanse of blue, the island of Brač. And, behind it, Hvar. Epic.
As if these incredible views were alone not enough, an extra adrenaline-pumping dimension has recently been added. At Ravna Vlaška, very close to Vošac, a thrilling attraction helps you get the most from the view. Completed in 2020, the Skywalk is a see-through viewing platform sitting 1228 metres above sea level. Furthermore, it extends out some 12 metres into the skies. Beneath your feet as you walk across it, nothing. A sheer drop. White knuckles of even the bravest grip the handrail when they look down.
Kayaking
Surrounded by great waters, it'd be a shame not to get in. Certainly, Imotski is a great place for kayaking. However, most of this activity doesn't take place on the lakes. Instead, kayaking usually in the Vrljika river, which has its source near Imotski. The water remains cold even in summer, so try and stay afloat.
Imotski City Day
Celebrating liberation after over 220 years of Ottoman occupation, Imotski City Day is the wildest street party of the year. Notably, all the seasonal workers on the coast try to come back for this. Moreover, the streets are full with Mercedes. Because most Gastarbeiters also try to drive home from Germany to join in.
Fast food, souvenir and arts & crafts stalls fill the streets, as do people. Bars are full, inside and out, with loud music adding to the festivities.
Magic Time Vinyl Festival
The Perinuša nature reserve on the town outskirts is usually a peaceful retreat for picnics or a leisurely stroll. However, for one weekend every year, the grasslands and embankments become party central. Despite its humble beginnings as the brainchild of a few local vinyl enthusiasts, the event has grown considerably. Actually, it's now one of the most-loved free music festivals in the region. Not only do most town residents pop down, but also folks drive from all over to attend. It's usually held across a late July weekend. DJs entertain a field of dancers with pop, rock n' roll, disco, world music and domestic songs. Their music is taken from the '50s to the present day.
Imotski lakes: a future UNESCO Geopark?
Blue lake (Modro jezero)
Most famous of all Imotski lakes, Blue lake is a huge expanse of water sitting on the town edge. Subsequently, it is the Imotski lake that is most frequently visited. As a matter of fact, many prefer summertime swimming here than the sea. And, after you've tried it yourself, you'll know why.
The descent to the lake is epic, zig-zagging down a series of stone steps. But, it's worth the trek. Certainly, swimming in its calm, fresh waters is an unforgettable experience. Emphatically, it's nothing like swimming in the sea. In view of teenagers, jumping from high rocks, you'll leave the 'beach' shore behind. Thereafter, you head out into an otherwise serene, placid and deserted scenery. Owing to the sun's movement, the canyon's walls change colours slowly throughout the day. Not only is this a summertime beach and pool, but also, when the lake fills in winter, you might see kayakers. If you fall in love with swimming here, then remember to conserve enough energy for the walk back up.
Red lake
Inaccessible without advance preparation, visitors can only usually admire Red lake from the upper edges. Specifically, the lake has this name because of the clay-coloured rock face that surrounds it. Notably, there's a challenge traditionally tasked to those brought here. See if you can throw a stone from the brim into the water. Actually, it's harder than it looks. Because the walls are steep and wide, the water a good long way below.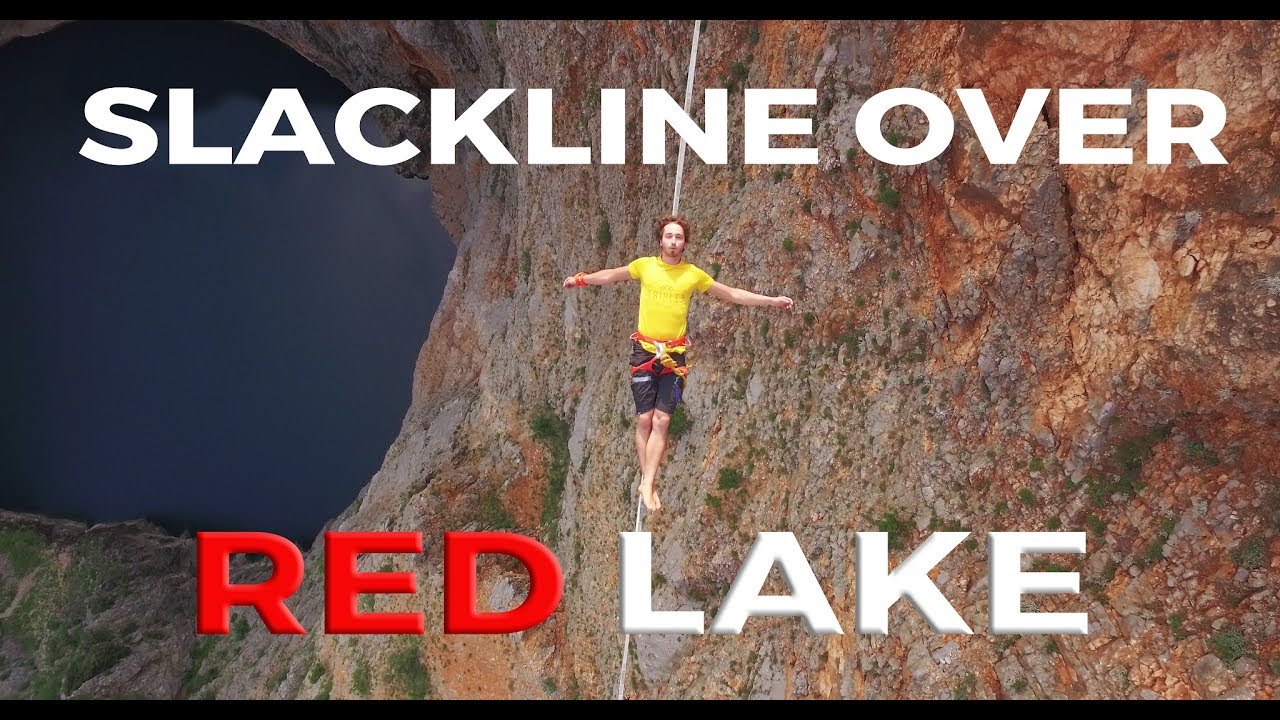 Prološki lake (Prološko blato), Knezović, Galipovac, Lokvičićko lake (aka Mamić lake)
All of the Imotski lakes are changeable in regards to their water level. Even so, Prološki lake is notable because it exists on a flood plain. Subsequently, it provides a natural habitat for birds, insects, small mammals and even some indigenous fish. As a result, it is a protected natural area. Although, fishing is permitted.
Like all Imotski lakes, water level is not actually governed by rainfall in the locale. In fact, it's the flow of water through mountains in Bosnia which dictates it. As a matter of fact, the floodplain on which Prološki sits creates three more of the Imotski lakes. Specifically, Knezović, Galipovac and Lokvičićko lake (aka Mamić lake).
At Prološki's north west is an island. A Franciscan monastery sat here, until the Ottomans arrived. Thereafter, it was abandoned and never rebuilt.
Green Lake (Ričice)
The picturesque Green Lake is named after its water's beautiful, icy, turquoise appearance. Although, with several surrounding small hills dipping gently down, this lake also has the greenest backdrop of them all. Subsequently, it's a great place for a picnic. But, walking, hiking, fishing and swimming (when waters are high enough) too. Actually, there's a tavern, Konoba Leonard, on a west-lying rise with a great terrace overlooking the lake. Not only does it offer superb views, but also an authentic range of inland Dalmatia cuisine.
Most who visit Imotski will leave having heard, if not visited, the Blue and Red lakes. But, it's surprising how many depart without catching any mention of the Green lake. However, those who do discover it do not easily forget.
Croatian wine in the Dalmatian hinterland: grape varieties of Imotski
One of the big surprises of a visit to Imotski is discovering the town's long winemaking tradition. Generally, Imotski is not known for its wine. Although, that won't be the case if you visit any restauranteur worth their salt in Imotski, the Makarska or Omiš rivieras. Basically, Imotski wine, along with that from the opposite side of Biokovo, is the authentic wine of the region.
In the vineyards of Imotski and surrounding settlements, you'll find familiar wines. Chardonnay, Sauvignon Blanc, Pinot Gris, Cabernet, Merlot, Syrah and Cabernet Sauvignon. Accompanying them, more regionally distinct varieties. Specifically, Žilavka, Vranac, Šimun and Pošip. However, there are two little-known wines that are synonymous with Imotski. In either case, you simply have to try both Kujundžuša and Trnjak.
Kujundžuša was once by far the most grown grape around town. The rich, yellow-white wine yields well in the sandy soil here. On the other hand, Trnjak is a powerful, punchy red. It's perfect for accompanying the strong flavours of Dalmatian hinterland meat dishes. Undoubtedly, the best way to learn about Imotski wines is to visit one of the town winemakers. With this intention, some of the Imotski winery names you should look out for. Grabovac, Đuzel Winery, Jerković, Šimunović, Sušić, Sočo, Maršić, Buljan and Glavota.
Where is Imotski? Map
View Larger Map
Imotski is a town located in the foothills of the Dinaric Alps. It's on the opposite side of Biokovo mountain to the Makarska Riviera in southern Dalmatia. Specifically, it is in modern-day Split-Dalmatia county. In detail, its coordinates with respect to latitude and longitude are 43.4471° N, 17.2140° E. And its postal code / zip code is 21260 Imotski Croatia.
Weather
The weather in Imotski is mild, a generally warm and temperate Mediterranean climate. Not only does this make for great holidays, but also its hinterland position grants slightly cooler summer evenings. Markedly, this allows comfortable sleeping. Here's how the weather in Imotski looks today and for the rest of the week.
Where to eat? Imotski restaurants
Although not overflowing with restaurant options, you certainly won't go hungry in Imotski. Actually, the town's best, traditional food is in the family home. So, if you're lucky enough to be invited, definitely accept.
Pizza
Undoubtedly the best two pizza options are Pizzeria Antonio and Bistro Pizzeria Lučica. Specifically, Antonio is an informal, indoor spot in the centre of town. Whereas, Lučica is two kilometres to the east in Vinjani Donji and works only in the summer season. But, it has an awesome terrace, children's playground, friendly staff and good meat options too.
Fast food / grill
Both Zalogaj and Pek Pek are solid fast food/grill options. Each do great burgers and ćevapi, with Pek Pek also offering nice breads, tortilla sandwiches and pizza.
Sit-down restaurants
At the present time, the two best sit-down restaurants are a hotel and a pioneering modern eatery. Coupled with the greatest terrace view in the town centre, the generous portions and reasonable price of Hotel Restaurant Venezia will knock you out. In contrast to every other place in Imotski, Euphoria is a wholly modern restaurant with a fresh and funky look. Additionally, the food is great and well presented.
Authentic Imotski food
Actually, some of the most authentic food you'll encounter in Imotski may come as part of a wine tour. Although, it's worth checking if this is part of the offer before you book. Otherwise, the aforementioned Konoba Leonard by Green lake does marvelous things with offal, a grill and a great view from the terrace. Another out-of-town traditional option is the very old school Hotel and Restaurant Zdilar. Not only do they make great grilled liver dishes, but also there's a lovely view across the river. This same view is shared by nearby Konoba Fabo. Also great.
As a matter of fact, you don't necessarily need to visit Imotski to try its food. Indeed, Konoba Didov San, on Mletačka ulica, near St. Mark's church in Upper Town Zagreb, is one of the best Dalmatian food eateries in the capital. But, the owner is from Imotski. Subsequently, he pays particular attention to offering authentic Dalmatian hinterland food. What's more, it's the only place in Zagreb making authentic Soparnik, a snack from the hinterland behind Omiš.
Where to drink? Cafes and bars
Generally, cafes and bars in Imotski are much of a muchness. Subsequently, you only need walk around the small centre to spot something where you like the vibe. By all means find your own favourite. But, ours is Caffe Bar NU at Šetalište Stjepana Radića, not least because of the courtyard they have out back.
Imotski and football (soccer)
The biggest hometown football team is, by far, NK Imotski. Actually, it's OK if you haven't heard of them. Because they were only founded in 1991. Relatively, this is quite young for a Croatian football team. Moreover, they have spent much of the last three decades within the country's second division, therefore without much hope of gaining recognition beyond the locale.
But, if you have heard of them, there are some pretty good reasons why that might be. In the first place, their stadium, Gospin Dolac, has been cited as one of the prettiest. As a matter of fact, in one article, the BBC said it was one of the 10 most beautiful stadiums in the world. Not only is it surrounded on one side by high walls of natural karst rock, but on the other, trees spring up behind the stands. Furthermore, although it appears to sit inside an enclosed valley, it's actually on the edge of the precipe to Blue lake. And, the Topana fortress overlooks it - stunning!
Famous footballers from Imotski
However, this is not the only reason Imotski is strongly associated with football. In fact, several internationally renowned players come from the town. Specifically, former Yugoslavia national team player-turned successful coach Ivan Gudelj. Also, member of the Croatian National team who came third at the 1998 World Cup, Zvonimir Boban. And, member of the 2018 World Cup Final team, Ante Rebić.
Football at the bottom of a lake
On the rare occasions that Blue lake dries up completely, locals take advantage. Specifically, they descend to the lake floor and play football. Therefore, Imotski could actually lay claim to having the two most beautiful football stadiums in Croatia.
Mercedes
One of the more unusual facts about Imotski is that the town has more Mercedes cars per capita than anywhere else in the world. As a matter of fact, by some estimates, out of 20,000 registered town vehicles, 13,000 of them are Mercedes.
Basically, the obsession stems back to the 1960s when, by agreement, Imotski's workers were permitted to go to Germany as gastarbeiters. Subsequently, they'd arrive back home with a Mercedes car, a status symbol, signaling they'd 'made it'. In fact, the tradition continues to this day. Owing to significantly higher pay, many young people from Imotski still leave to work in Germany. Furthermore, they love returning home - especially on Imotski City Day - and showing off their new Mercedes. Pretty fly for a vlaj guy!
What's more, the fascination has been recognised by the carmakers themselves. And, there's even a plan to install here a 36-tonne statue dedicated to a 115 model Mercedes.
Imotski cake
Tricky to make, even harder to perfect, Imotski cake is an almond-flavoured, thin crust and lattice-decorated pie. Moreover, it is the number one food for which the town is uniquely known. Although minor flavouring ingredients vary, the consensus is that the filling is largely almonds, eggs and sugar. Additionally, a delicate and balanced series of inclusions are added. Specifically, vanilla, lemon and orange zest, nutmeg, optionally cinnamon and cherry liquor. Although, some use orange juice or rum instead.
Imotski and Hercegovina in Bosnia and Herzegovina
It would be fair to say, if not an understatement, that Imotski's inhabitants have a reputation for being nationally patriotic. Contrarily, this patriotism does not appear to extend to their town. Because the stands at the beautiful local stadium Gospin Dolac are significantly underfilled. Meanwhile, young local men get bored pretending to watch on TV the disastrous efforts of Hajduk Split. (They're a local rival from over an hour's drive away).
National patriotism extends so far in Imotski that the Balkan pop-folk music known locally as cajke is more-or-less banned. (The music is distinctly Serbian or Bosnian-sounding). Indeed, planned concerts from cajke singers have been cancelled here due to outrage and objections. However, get a few drinks into most Croats and it's a different story. They'll be changing lightbulbs with both hands and wailing like the call-to-prayer from a minaret. So much so, that the calling of bar time in Imotski often results in a specific phenomenon. Thereafter, it is not uncommon for convoys of young, drunk people to drive across the border. There, they visit the nightclub in Posušje, to get their fix of 'light eastern rhythms'.
However, the relationship between Imotski and nearby Herzegovina does not end here. Indeed, many people commute, do business or own land across the border. Furthermore, until recently, it was where you'd regularly go to buy cut-price cigarettes, alcohol and preserved meats. In fact, in the minds of many Croats, Imotski is more akin to being a part of Herzegovina than it is Croatia. Obviously, this disownment is kinda rude and we wouldn't agree. However, it is true to say that Imotski and Herzegovina are inextricably linked.
Accommodation and property in Imotski: Holiday homes for rent, Villas, Holiday homes to buy, Houses for sale, Villa
Hotels
Previously mentioned, Hotel Venezia and Hotel and Restaurant Zdilar are the town hotels. Venezia is in the town centre, on the east. Zdilar is a little further out, on the west past Red lake.
Villas, holiday homes to rent
The number of holiday homes and luxury villas in Imotski has grown considerably over recent years. Indeed, just because you haven't yet discovered Imotski, that doesn't mean no-one has. Want a villa with a pool and a stunning design? Can do. Prefer something more simple to just use as a base? Also available. You can check out a range of properties on the usual booking platforms.
Villas, holiday homes to buy, houses for sale, land, build
Fallen in love with Imotski? We don't blame you. But, if that love extends to you wanting to buy a house in Imotski, where to look? Actually, there are two good local brokers who can help.
Specialists in tourism and property, Pro Paradise are experienced go-betweens connecting locals with internationals. Furthermore, you can rent holiday homes from them. They also have houses for sale and land for sale.
Ajduk Agency is more of a traditional property broker. They have completed and unfinished properties plus land plots for sale. Based in Imotski, their portfolio also extends far from the town.
Need to turn that empty plot into a luxury holiday home? Bought an unfinished build you're looking to complete? Want to add a pool to your existing property or do landscaping? Local specialists METER.HR are who to speak with.
Camping
Unfortunately, there are no camping grounds in Imotski itself. However, there is one pretty close by. Camperstop and Campsite Biokovo in Zagvozd is 17 km to the town's southwest. Furthermore, it is highly rated. Its position at the foot of Biokovo mountain makes it perfect for exploring the Imotski, the Nature Park and the beaches that lie beyond.
Brilliant day trips
Baška Voda beaches, Brela and Makarska
The completion of a tunnel through the mountains means the beach is now only 30 minutes away. Specifically, the nearest places are two of the prettiest, Brela and Baška Voda. They have the best beaches. You can check out more about Baška Voda here. Looking for somewhere with bigger crowds and a buzzing nightlife? Continue down the coast a little further to Makarska.
Huge fun rafting on Cetina river or zip line in Omiš
After travelling some 100 kilometres, the Cetina is the largest river in Croatia that flows into the Adriatic. It's awesome. So too are the activities it offers. Head to Omiš if you want the full range of thrills - it's just over 50 km away. Specifically, you can go canyoning, rock climbing, hiking or kayaking through wildlife-rich nature. Moreover, and most exhilarating of all, white water rafting and Croatia's greatest zip-line run. Read all about these fantastic activities and the river Cetina in Omiš here. Read everything you need to know about Omiš in our guide.
Međugorje and Mostar in Bosnia and Herzegovina
Imotski sits right next to the border with Bosnia and Herzegovina. Subsequently, day trips couldn't be easier. Međugorje is a popular site of religious pilgrimage. You can read more about it here. To get a flavour of a different culture altogether, head instead to Mostar. The city is split between Christian and Muslim residents. As a result, some of the architecture, culture and food is fantastic. Both are only around 50 km away, Mostar to the east, Međugorje to the south-east.
Split
100 km west of Imotski on the motorway is Croatia's second city. Everyone should walk around Diocletian's Palace once in their life. But, there's so much more there to do and see. Actually, it's the perfect big city for a day trip. Find out more in our guide.
How to get to Imotski Croatia, bus from Split, from Mostar, Zagreb, Zadar, from Dubrovnik, Montenegro, Flights, Road by car
Plane
Not counting the local hobbyist airfield, the nearest airport to Imotski is on Brac island. Although, that route obviously requires a boat journey to reach the mainland. Actually, the best airport used to fly to Croatia region Dalmatian hinterland is Split. It's around 100 km to the west using the motorway. Read all you need to know about Split airport here.
Imotski is also within easy reach of flights to Mostar airport and Sarajevo airport. In fact, Mostar airport is just 65 kilometres to the east.
Bus
Imotski must be the best connected little town by bus in the Dalmatian hinterland. Indeed, it has its own sizeable bus station. Actually, from there you can reach everywhere in Croatia by bus.
Students from Imotski attend universities in Zadar, Split, Mostar and Zagreb. Subsequently, you'll find lines to each from Imotski. You can even travel from Budva in Montenegro to Dubrovnik by bus, then on to Imotski. Want to go from Imotski to Osijek by bus without going through Zagreb? Easy. Just hop across the border to Posušje. There, you can pick up a line that runs through Bosnia instead, via Slavonski Brod and Đakovo to Osijek.
Learn more about travelling through the country by bus here.
Road, by car
Having built a tunnel through the mountains, Imotski now couldn't be easier to reach by car from the coast. Just turn off the coastal road at Baška Voda and head inland through the tunnel Sveti Ilija. The tunnel brings you out at Zagvozd. From there, continue straight on the 76 to Imotski.
Looking for a fast, reliable and trouble-free transfer to or from Imotski? Contact TC transfer partner Adriatic Transfers for your one-stop solution.
Actually, Sveti Ilija tunnel sets a precedent that all lesser-visited Croatia should follow. In order to pay for the tunnel, the initial passage carried a toll. Once paid for, the toll disappeared. It's now free. Outstanding.
Zagvozd is also your turning if you're travelling from Split to Imotski or Zagreb to Imotski by motorway.
Heading from Mostar to Imotski or from Sarajevo to Imotski? In both instances, travel to Posušje and cross the border near there.
Boat, ferry, travel to or visit the islands from Imotski
Want to visit islands during your holiday in Imotski? Fancy a day trip to Imotski from your island vacation on Brac? Couldn't be easier. The ferry port at Makarska has both catamaran and ferry options. What's more, they're super cheap.
Krilo have a fast boat service that runs between Split, Brač, Makarska, Korčula, Mljet and Dubrovnik. See the timetable and buy tickets here. On the Jadrolinija ferry you can take your car between Makarska and Brač. Timetable and tickets are here.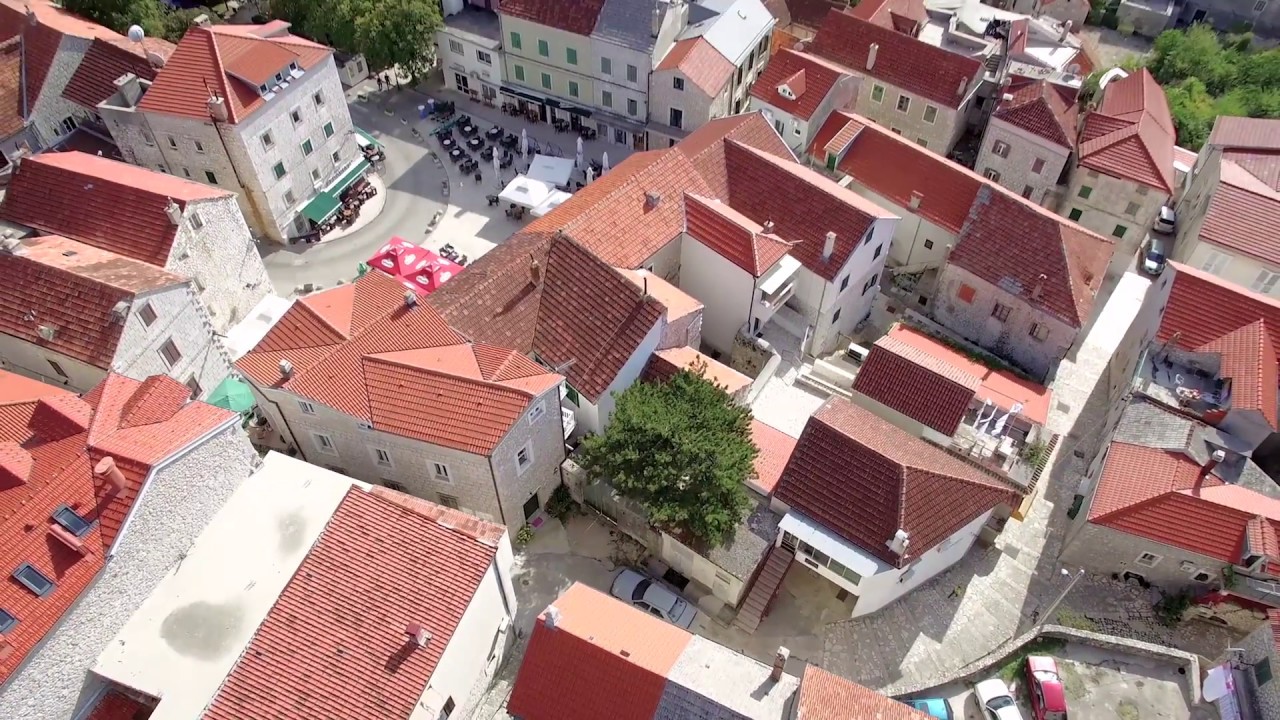 More information
For more ideas about this destination, check the town tourist board website here.
To follow the latest news from Imotski, check out the dedicated TCN page.