The land around Drniš rises restlessly. Different shades of green, as far as the eye can see. In the distance, Mount Dinara. It's the spectacular backdrop to almost every photo taken here.
Yet, despite the uneven ground, the town of Drniš sits comfortably. Peaceful and picturesque, it reclines into these foothills of the Dinaric Alps.
Located just 30 kilometres from the beaches around Šibenik, too few people discover Drniš. Although, this adds to the tranquil air of the place. Mass tourism doesn't ruin it. Moreover, this is authentic Dalmatia, protected within the hinterland.
But, there are many reasons why you should discover Drniš. Because it is a town with a rich tradition of culture and food, not least Croatia's most-distinct prosciutto (Drniš pršut). Additionally, it is the birthplace of Croatia's most famous sculptor, the world-renowned Ivan Meštrović. Surrounded by beautiful nature, including Promina mountain, the nearby Krka National Park and not-too-far Dinara Nature Park, there are also lots of great things to do in Drniš.
How to get to Drniš
By car
Drniš is around 50 kilometres north of Split and around 100 kilometres south-east of Zadar. Indeed, it's a short and easy drive there from both of those city's airports. Furthermore, the town is less than 30 kilometres inland from Šibenik, just on the other side of Krka National Park.
Therefore, if you're anywhere on the Croatian coast between Zadar and Split, Drniš is an easy reach. In combination with the pools and gushing waterfalls of Krka National Park, it's a brilliant day out. Hiking on Promina mountain or within the breathtaking scenery of Dinara Nature Park? Drniš should be your next stop.
Looking for a fast, reliable and trouble-free transfer to or from Drniš? Contact TC transfer partner Adriatic Transfers for your one-stop solution.
Split to Drniš
It takes around one hour to get from Split to Drniš. Actually, there are three ways to get from Split airport and Split to Drniš by car. Take the motorway (A1 road) in grey, if you're in a rush to get there. Alternatively, want to travel at a more relaxed pace? The old road, coloured blue, will take you from Split airport to Drniš' through pretty local villages like Sitno, Unešić and Žitnjić. A traditional Dalmatian landscape of olive fields and vineyards lines the route.
However, there's another old road for those coming from central Split to Drniš. Head up to Klis from the city and check out the fortress and its amazing views. Afterward, take the 56 through a classic Dalmatian hinterland vista. You can even stop off to check out the mysterious wells of Rajcica on the way
Zadar to Drniš
From Zemunik airport in Zadar to Drniš also takes around an hour. Take the motorway for the fastest route. By comparison, the coastal road winds its way down a spectacular stretch of the Adriatic. Take in the sea air and the view of islands just offshore. You can cut inland at several points.
By bus
Don't want to hire a car? The town is easy to reach by bus. Services run from Šibenik to Drniš. Moreover, there's a bus from Split to Drniš. More information about lines, times and where to buy tickets is here.
By train
Train is rarely the fastest way to travel through Dalmatia. But, it is often the most comfortable and gives unique views. Not rushed for time? Sit back and enjoy the scenery of hills, villages and agriculture as it rolls past. By all means, get up to stretch your legs. Train lines run from Šibenik, from Split, and from Zagreb. Timetables and prices are here.
Things to see in Drniš, best reasons to visit Drniš
Drniš Pršut / Prosciutto (Drniški Pršut)
First and foremost Drniš is famous for prosciutto. Locally called pršut, it is the most distinct prosciutto in Croatia. Moreover, many claim it to be the best.
You can't make pršut elsewhere and put the name Drniš on it; it's nationally protected. And too by the EU. In fact, Drniš prosciutto is so famous, you can buy it from specialist stores around the world. Actually, demand is so great there aren't enough local pigs to make all they need. But, it's the distinct process of preserving and the unique micro-climate that gives Drniš pršut its special qualities. Fresh meat from elsewhere bolsters production.
Making and maturing Drniš Pršut - what makes this smoked Dalmatian prosciutto so special?
Always made in the same way. this adherence to tradition ensures the quality of each hind leg produced. The leg is first shaped, then coated in sea salt. This happens no more than 72 hours after slaughter. Thereafter, it sits for 7-10 days, depending on the weight. They then press it for 15-20 days. Afterward comes the smoking.
Usually, people smoke their Dalmatian prosciutto. Indeed, this makes it distinct from that made in Istria (both have EU protection). They usually use Birch, beech and oak wood. By comparison, in Drniš they use immortelle and almond. Because these are the plants that grow abundantly in the rocky ground around the town. After smoking, air-drying and maturing take place over one to two years.
History of Drniš Pršut / Prosciutto (Drniški Pršut)
Early evidence of prosciutto production in this area date back to the 14th century. However, pršut from Drniš only became a known market brand in the mid 20th century. In 1952, at the coronation of Queen Elizabeth II, Drniš prosciutto was on the menu. Drniš prosciutto was again sent to the Queen in 2002, recognising her 50 years on the throne.
Production of prosciutto here hit a peak in this mid 20th century period. However, other regions gradually stepped ahead. Subsequently, their prosciutto became better known. By and large, this was simply because they were better able to market themselves than the inland town. Their seaside locations brought new visitors to try each year.
But, to true connoisseurs, there's simply no substitute for Drniš pršut. Members of the Croatian diaspora seek it out from specialty vendors in Germany, America, Canada and Australia. In fact, since the EU designation, this prize prosciutto has been undergoing a revival.
How to eat Drniš Pršut / Prosciutto (Drniški Pršut)
An intense ruby-red ham, Drniš pršut has a well-defined taste. Moreover, its difference is perceptible. Compared to other prosciutti, the distinct smoking and drying process leave their mark on both the flavour and texture. Nevertheless, it doesn't need treating with kid gloves. Its bold flavour stands up well to pairing partners that carry a punch. As with any delicacy, to appreciate it best look no further than a couple of kilometres for accompaniments. Olives grown on Dalmatian soil and the wines of the region are the best companions for Drniš pršut. And also cheese from Drniš.
Food in Drniš
Cheese (primarily sheep cheese)
Cheese from Drniš is second only to the town's prosciutto in widespread appreciation. Drniš has been making distinct, traditional cheeses for a long time. Indeed, longer than anyone can remember.
The rugged hills of the Dalmatian hinterland are no place for cows. Nor is anywhere close by. For centuries, the local cheese-making tradition in the Dalmatian hinterland was instead reliant on sheep's milk. And, this tradition continues in Drniš.
The yield of milk from these animals is not great. Also, you can't take it year-round - sometimes the young-born lambs need it more. When available, they preserved some as cheese and kept it in sheepskin.
Fermented in these vessels for several months, the process, conditions and container itself lend the cheese a full and highly distinctive taste. These days, improved transportation means you can get cow's milk everywhere. But, this traditional cheese remains popular. Indeed, they still use these sheepskins today, making a slightly milder, cow's milk version (Sir iz mišine).
Wine
Rare indigenous grapes are preserved in the vineyards around the town and used to make distinct local wine. The most famous are 'debit' and 'maraština', which are used to make white wine. 'Lasina' and 'plavina' make the reds. The local wine drinking tradition includes drinking from a 'susak', a wooden jar made of juniper wood that imparts a flavour.
Ivan Meštrović - find him in Drniš, Drniš City Museum and Otavice
Unquestionably, Ivan Meštrović is the pre-eminent sculptor of his era. Moreover, his works help define the cities of Split, Chicago, Belgrade and Zagreb. Certainly, he's the greatest ever sculptor from Croatia.
A vast museum in Split celebrates Ivan Meštrović. He learned his craft there. His workshop in Zagreb is now also a museum in his honour. However, Ivan Meštrović was born in Drniš. And he left his mark here.
Ivan Meštrović bequeathed many works to Drniš. Additionally, the former town mayor, Nikola Adžija (1875 – 1972) recognised Meštrović's talents and sponsored him. Ivan didn't forget his kindness. He gifted many works to Nikola Adžija. Subsequently, Adžija left the collection and the building that is now Drniš City Museum to the town.
Ivan Meštrović born and early life in Drniš
Ivan's father was one of the town residents who took sheep into the hills to graze. Ivan would follow him and listen to epic song-poems of heroic history and myth ring out around the hills. Similar heroes and myths would later appear in his work.
The family patriarch was the only literate man in the village of Otavice, just outside Drniš. However, family reading was restricted to one book - the Bible. From it, Ivan Meštrović learned to read and write. Ivan's mother recited its stories and guidance every night from memory.
As the story goes, Ivan walked from Drniš to Split aged sixteen to begin an apprenticeship as a stonemason. Another story tells of Ivan Meštrović buying one of his own works at auction so he could give it to the town of his birth. Walking around Drniš, nobody could complain that the sculptor is nowhere to be seen. Drniš has a wealth of Meštrović's work to enjoy.
Ivan Meštrović in the streets of Drniš
Ivan Meštrović's works in Drniš are unavoidable. They are focal points for the town. Rightly so. They include a relief called 'Orači (Ploughmen)', another relief of St. Roko, a statue, 'Mother and Child' and a well-positioned drinking fountain called 'Vrelo Života (Source of Life)'
Ivan Meštrović in Drniš City Museum
Drniš City Museum carries 50 works of art from Ivan Meštrovič. Find the museum at the town entrance, near the bridge over the Čikola river. Furthermore, there you can also find an archaeological, cultural, and historical collection. Additionally, a collection of old photographs and postcards, maps and graphics, a collection of weapons and military equipment, collection of medals, and contemporary art. Moreover, the museum is a living part of the town's cultural life. It frequently holds events and visiting exhibitions.
Drniš City Museum is open to visitors from Monday to Friday from 08:00 to 10:30 and from 11:00 to 14:30. You can contact them on phone: (+385) 22 886 774 or write an email: This email address is being protected from spambots. You need JavaScript enabled to view it.
Ivan Meštrović in Otavice
The Church of the Holy Redeemer in Ružić, near Otavice, is where Ivan Meštrovič, his mother and his father rest. Furthermore, it's an awesome architectural construction. Classic Meštrovič. Designed by the artist himself, it sits next to a small village that remains similar to how Ivan himself would recognise it. The village isn't far from Drniš, less than 10 kilometres to the east (just off the old road to Klis). The grand, imposing structure is at odds with the simple way of life that persists here. However, the mausoleum is a befitting testament to the world-famous sculptor who emanates from this place. Moreover, it speaks of the respect and love for family that never left Ivan Meštrovič.
More sights to see in Drniš
Gradina Fortress in Drniš
Want an epic view of Drniš, the surrounding foothills and mountains? Head to Drniš's fortress Gradina. It sits 344 meters above Čikola Canyon.
Originally the fortress served as defence against the encroaching Ottoman Empire. However, Drniš was overrun. Thereafter, under Ottoman rule, Gradina was upgraded. In the 17th century, the Venetians ordered its destruction. But the fortress was rebuilt due to constant Ottoman threat, which lasted till 1715.
In the 19th century the fortress was abandoned. Its stone was used as building material in the expanding, freed town. Indeed, you can see some of it in town buildings today! Still visible on the original site are remains of the medieval fort's south side. And the Ottoman's central tower and the north-east defence wall. Gradina is a nationally registered cultural monument.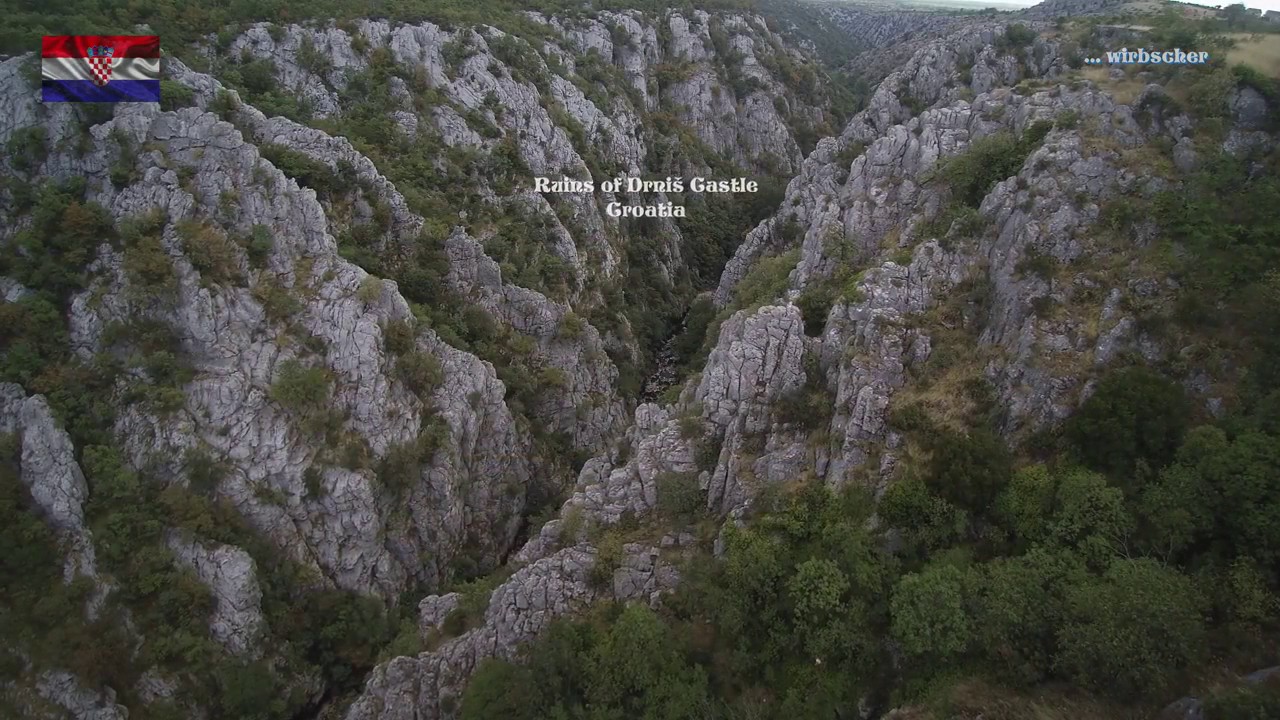 Drniš Ottoman Minaret
Ottomans arrived in Drniš during the 15th century They ruled here from 1522 to 1683. Actually, Drniš didn't do so badly out of the 'deal'. Considered a strategically important point, the constant occupation resulted in the town's development and growth in population.
Some documents from that period describe Drniš as a town with 5 mosques (džamije) and a sahat kula (oriental tower clock). These buildings were mostly destroyed as Venetians overtook the area. The best-preserved remains from Ottoman times is the 16th-century Minaret. It is the most westbound minaret built during the Ottoman Empire, the only preserved minaret in Dalmatia, and the only one in Croatia left standing from this era.
Old Mill
Drniš Old Mill dates from the Middle Ages. Or so they reckon. And, probably it's owners were nobles. The stone watermill has a riverside foundation wall constructed from larger stone blocks, ensuring its stability. Perhaps the miller himself lived on the first floor?
Church of St. Roko (Crkva sv. Roka)
Built in 1731, the church of St. Roko commemorates the town's patron saint. Construction was at the time of the plague. Therefore, the church's dedication went to the saint who protected against it. Every year the Feast of St. Roko is on 16th August. It's also the city day of Drniš. Residents and visitors walk in a traditional procession through the town. In the evening, there's a feast on the main square, with a lively musical backdrop.
Things to do in Drniš - activities
A wealth of investment in tourist properties means, if you stay in Drniš, you don't much have to leave home. Maybe you're looking for a respite from the busyness of the nearby beaches? You might want just to relax by the pool at night. That's fine. But, if you're a little more active, this is the perfect springboard to some of Croatia's best natural assets.
Krka National Park
A series of wide pools, fed by cascading waterfalls, Krka is one of Croatia's best National Parks. Furthermore, the edge of the park is only a few minutes from the town. Take a boat ride to an island monastery, swim in cooling freshwater beneath waterfalls. You can do it all here.
Promina Mountain
Perhaps in the shadow of nearby Krka National Park and Dinara Nature Park, Promina mountain is a vast natural oasis inviting exploration. The mountain dominates the skyline. It is perfect for walkers and hikers year-round. And, the views it gifts are incredible.
Dinara Nature Park
Croatia's latest Nature Park, Dinara and its same-named mountain received its classification in 2021. An exciting climb for hikers or a leisurely stroll for nature and wildlife lovers, the park has something for everyone throughout the seasons. And the park is less than 60 kilometres to the town's northeast.
Etnoland
Theme Park Etnoland opens up the traditions, culture and life of Dalmatia as it once was. What's more, here you can try traditional meals made from locally sourced ingredients and see how the ingredients are cultivated and the meals made, Contact them on +385 99 2200 204 or +385 99 2200 200, or even send them an email: This email address is being protected from spambots. You need JavaScript enabled to view it.. Reservation is required.
Other activities in Drniš
Not a walker or a hiker? That's ok. The town and its surroundings are great to explore by bicycle. Bring your own or rent one here. There are also some fascinating water features around the town you can visit. These don't necessarily require a hike or strenuous walk. Čikola canyon looks different depending on what time of year you visit. In winter, admire its water. In summer, it's sometimes barren. Subsequently, you can get up really close. Try the zipline there! Roski Slap waterfall is a spectacular sight. Indeed, it's a place of romance, proposal and wedding photos.
Events in Drniš
One of the best excuses you'll get to explore this gem of the Dalmatian hinterland is by being there for an event. Notably, there are happenings to suit all tastes.
Festival of Drniš (Pršut Festival)
The Festival of Drniš is no doubt the best of them all. Here, you can see, taste and try absolutely everything the town is known for. As well as the famous cheese and prosciutto, you'll find traditional meals and pastries. Additionally, it's a fair for local arts & crafts. It lasts two full days and it's full of intriguing cultural programs where you can join in or enjoy the spectacle or musical sounds. Joy and festivities fill the streets. It's not just for visitors, although you'll be welcomed with open arms. Every resident also looks forward to the event.
Good Fest runs from 23 - 27 July 2021. Actors from across Croatia will hold 5 performances, with a big opening ceremony on 23/07. You'll be guided through every corner of the town.
More of a music fan? Most musicians born and raised in the town will return for Drniš Rock Chronology on 07 and 08th of August. Moreover, big bands form an impressive part of the event.
Sports
The incredible scenery surrounding Drniš make it perfect as a host for sport and athletic events. Running races in particular enjoy the spectacular mountainous and natural backdrop here. The Promina Trail is a part of the Dalmatian trail league. And it has an ITRA (International running association) certificate and usually takes place in March. The race organizer is Mountaineering Association Promina.
Where to eat in Drniš - restaurants
The town has two good pizzeria options. Pizzeria Šego and Bistro Pizzeria Ghetto will satisfy anyone at lunch or on an informal evening. Hotel Park has a restaurant attached. Taste the best merlot from the region and sample traditional homemade food of the region at Vizzulin Winery. Specialties are venison and other game dishes and, of course, pršut.
Driving through local villages, you can come to family restaurants that make home-made traditional food with their own produce.
Where to stay in Drniš - rent, villas, accommodation
The town has two hotels, Hotel Park and Hotel Roški slap.
Except for those, you can also stay in apartments. Pansion Skelin is right next to Krka National Park and has a series of apartments, a pool and great wines. Alternatively, find something with a pool, WiFi, air conditioning or whatever suits your needs on Booking.com. Moreover, AirBnB has a range of options away from the centre, perfect for peaceful family seclusion. More information you can find here.
Souvenirs
Drniški Susak is a traditional wooden jar made of aromatic juniper wood. A Susak is used for serving and drinking wine. Moreover, it imparts a flavour to the wine. Also, it brings the memory of closeness and bonding between people drinking from it. Tomić workshop makes other wooden souvenirs: racks for wine bottles, ashtrays, magnets, jewelry, key chains and figurines in folk costumes. You can contact them on +385 98 914 3544.
Miniatures in stone -Mrs Miroslava Aralica and Mrs Milanka Pranić make traditional Dalmatian houses, Drniš fort- Gradina, sacral architecture mad as miniatures from stone. Moreover, the workshop also produces unique souvenirs combining natural materials and presenting traditional ways of life. Specifically, these include miniature open fireplaces in old houses, miniature vineyards and farming tools. Additionally, the workshop also produces magnets, key chains, and other items featuring local motives. You can contact them on +385 98 889 291.
Handwoven souvenirs The Handweaving cooperative 'Miljevci' (Tkalačka zadruga Miljevci) uses traditional hand-weaving techniques. Want to get an authentic Drniš hat? Here's the place. Other folk clothing items, embroidered or sewn with traditional motives and elements are also available. E-mail: This email address is being protected from spambots. You need JavaScript enabled to view it. or call them on +385 91 104 1316