Welcome to Brela Croatia!
With less than 2000 permanent residents and almost 10 km of coastline, the folks of Brela are blessed. Luckily, they're the sharing type. In the hope that others will discover their bounty of beautiful beaches, the village freely opens itself to visitors. And, over the course of several decades, word has filtered out. Indeed, Brela has earned itself a reputation as a jewel on the Makarska Riviera. It's easy to see why.
If pristine, natural waters are a big deal for your holiday, then you're looking at the right place. In fact, it's tough to think of another village that could challenge this wealth. However, with two weeks set aside for perfect family vacations here, you'll have time to explore. Certainly, there is more to discover than the exquisite coast.
Not only is Brela the perfect base to explore the Biokovo Nature Park, it has great activities right on its doorstep. Moreover, there's exceptional gastronomy, a world of nature and fascinating, hidden heritage. We strongly advise you take a look.
The 5 best things to do in Brela
1) Enjoy the incredible beauty and crystal-clear waters of Brela beaches
Without a doubt, if you've chosen a holiday in Brela, you love the sea. Either you love looking at it, or you love being in it, swimming, paddling, diving, whatever. If you didn't love the sea, then you would've gone somewhere else. Whether you can't get enough of splashing around or catching the sun set beyond the blue, you're in the right place. Overall, the Brela section of Makarska Riviera has almost 10 km of shoreline. Furthermore, almost all of it is made up of brilliant beaches. Indeed, so inextricably linked is Brela to the beach that we've dedicated a large section to the best Brela beaches. (immediately below).
2) Soak up the peaceful ambiance and watch the sunset from a 7 km-long promenade from Jakiruša to Berulija
Not only is Brela Dalmatia's richest village in beaches but, for the most part, they are incredibly accessible. Of the roughly 8 km+ of Brela beaches, a huge 7 km of them are lined with a modern, shorefront promenade. Subsequently, almost all of Brela's beachfront is perfect for cycling, wheelchair access, jogging or simply just hanging out. Of course, this handy pathway unlocks a world of activity. But, also it is to be enjoyed in and of itself.
On the one hand you pass sunbathers, on the other, peaceful villas, beach bars, restaurants and impressive hotels. However, between the two, there's enough room just for you. Walking beneath shading, strongly scented pines, you pass through idyllic scenes, Beyond the buildings, the huge Biokovo mountain range, beyond the shimmering sea, the island of Brac. Not only is it perfect for walking off that extra bit of delicious dinner you couldn't help but eat, but also it's calming and romantic. The perfect walk to take with the kids so they unwind before bed, or equally, an atmospheric, hand-held stroll at sunset. Walks along the beach in Brela are difficult to describe, impossible to repeat and never to be forgotten.
3) Discover the hidden heritage and history of Brela
A short walk into the foothills, or even just away from the shore, can be a revealing experience in Brela. Not only can you find several old churches in the area, but traditional buildings that tell a story, like the small, fortified tower in Soline. Specifically, its defensive construction was built in response to the Ottoman threat.
One of the most fascinating examples of traditional Dalmatia lies in the Bekavci-Ivandić complex of houses in Donji Kričak. Here, first floor, carved-stone houses share yards and water wells. A fascinating way of life halted in time.
The French Road or Napoleon's Road
From the Fall of the Roman Empire, transportation through Dalmatia did not improve for over 1000 years. As a matter of fact, it only got worse! In ancient times, the average distance of daily travel was just 12 kilometres a day for an ox cart. 20 km a day for a heavily laden mule and 30 km a day for those on foot.
Unfortunately, one of the best ways to improve regional infrastructure in those times was to host an invading, imperialist army. Preferably for as short a time as possible. The region of Dalmatia did just that, with the arrival of Napoleon's forces in 1809. Although they were only here for around half a decade, the French managed to compel some locals to forgo their perhaps more usual sedentary lifestyles. With competing empires on nearby borders, Napoleon couldn't live with the slow rate of travel of his forces through the region. Accordingly, an ambitious road-building project was instigated.
An incredible remnant of French rule
Although never completed, the incredibly well-preserved French Road above Brela is fascinating evidence of how it would have looked. It rises almost 100 metres up the hillside. Although, never at a gradient of more than 6%, in order to accommodate driving carts, horse riders and easy walking.
Sadly, the road's progress was halted by the Austrians recapturing the area in 1814. French rule of the 'Illyrian provinces' brought about many advances for the region. Specifically, personal freedoms, separation of church and state, a nationalised judiciary and a respect of national identity. In fact, his observance of the latter helped birth the Croatian-born Illyrian movement! Despite this, with the large, Imperial army of Austria directly on its border, when the old rulers began to push back the French, local objection was in some instances rather muted. In fact, when the outcome became apparent, many locals conscripted into the French army simply just swapped sides and joined the Austrians.
4) Get up close to nature with Brela activities
Rock climbing
Within Brela is one of the very best rock faces for climbing within the whole Biokovo Nature Park. Specifically, it's called Penjalište Brela Kričak, or simply just 'Brela'. However, there are in total 7 rock faces available to climbers staying here. Brela Tourist Board has mapped them all and will send them to you free, on request. Also, for help and accompaniment on the climbs, look to an experienced rock climbing association. Notably, SPK/Climbing Centre Marulianus from Split know all these routes well. Email: This email address is being protected from spambots. You need JavaScript enabled to view it. or +385 91 529 5990.
Diving
When the land gently slips into the sea on Brela beaches, the Adriatic waters have never looked so inviting. But, there's a lot more to them than what you can see near the shore. Bikini Dive Brela will unlock the secrets of the deep on a scuba diving trip. Not only do they provide training and certificates for the inexperienced, but also boat trips. Diving around Brela sees you swimming between interesting rock formations. Although, you're just a guest in these waters. Actually, the clear seas around Brela are home to many fish and other animals like octopus. Probably you'll meet some on your dive. Contact Bikini Dive here.
Hiking, walking
The shoreline promenade in Brela is great for walking, running or a gentle stroll. However, if you want to challenge yourself a little more, this is the perfect region for hiking. Trekking up into the green belt of nearby foothills gives a great view of the sea. Also, you'll meet pretty villages, historic churches and traditional life along the way. However, the real challenge lies in the mountains just behind. Biokovo is more a mountain range than a single peak. Furthermore, the whole area is a Nature Park. Throughout the whole year, hiking trails on Biokovo offer incredible vistas. And, Brela is the perfect base for exploring them. Learn more about the hiking trails of Biokovo here.
Cycling in Brela
Want to check all of Brela's beach offer to find the spot that's right for you? There's no better way to cover the entire promenade in one go than by bike. However, cycling trails in Brela don't end with the seafront. A short ride up into the foothills will give you an entirely different perspective on the sea.
Free open-air gym workout
Surely, there are better places to work out than an enclosed gym blasting music? Well, there are. On Brela's seafront, you can use the free street workout gym. A collection of exercise equipment sits just north of the Brela Stone in Podrače. Actually, the weight-lifting apparatus uses your own body as a weight.
Open to all ages, the free gym has a sea view, fresh air and the scent and shade of covering pines. Additionally, there's no intrusive music, unless you bring your own.
5) Just relax
People have been visiting Croatia's coast on holiday for over 100 years. Correspondingly, the coastline has changed. Once sleepy fishing villages now hold summer-long beach parties, discotheques vie for attention with neon lights and loud music. Exciting? Yes. Draining? Also. For the most part, the peaceful ambiance of Brela has unchanged. Sure, the village looks different now - the promenade is ultra-modern, as are the 4-star hotels and other accommodation. But, while other destinations have tried to become something that perhaps they're not, Brela has recognised its assets.
For sure, you can stay up late in one of Brela's many great beach bars, if you want. But, their atmosphere is more in keeping with Brela's chilled out nature. Furthermore, with Makarska and Split so close by, there's plenty of places to party. Basing yourself in Brela allows you to come back and rest your head somewhere peaceful. Rest, relax, rejuvenate. Enjoy the beautiful natural surroundings and the people you choose to be with. That's what a visit to Brela is all about.
Brela beach city: the best beaches in Brela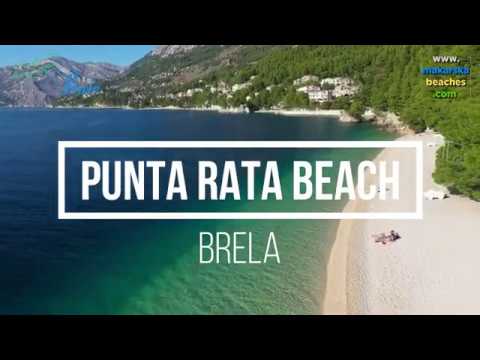 With almost 10 kilometres of shoreline, it's not for nothing that we call Brela 'Dalmatia's richest village in beaches'. Indeed, though it may officially only be a village, you'd not be wrong if you referred to it as Brela beach city.
As has been noted, Brela's incredible seafront promenade is 7 km in length. And yet, Brela's total length of beaches is larger. So, where do the extra kilometres come from? Well, the promenade's most northerly point lies in Jakiruša. However, while the pathway ends there, Brela does not. In fact, there is more Brela beach beyond it. Specifically, until the point on Vruja beach when the coastline comes under the province of inland community Zadvarje. Thereafter, it's all Zadvarje until you reach the Omiš Riviera.
Find the Brela beach that's right for you
With so many Brela beaches accessible from the promenade, it's simple enough to discover a spot that's right for you. Just take a stroll until you find one. Certainly, you'll not have to walk far. Looking for activities to keep the kids happy? Can do. Alternatively, looking for something more peaceful and quiet? Well, there's lots of that too. Want to be near a restaurant for lunch or a shower to take off salt? Covered.
Not only do all Brela beaches have crystal clear waters, but also almost all are backed by scented, shading pines. Subsequently, you can enjoy Brela beaches without ever worrying about getting too much sun. Tip: the fewer facilities immediately servicing your beach, the quieter and more peaceful it's likely to be. Here are some of our favourite Brela beaches to give you some inspiration.
Brela accommodation: where to stay? Brela hotels, Brela apartments, Brela real estate, Camping in Brela
Hotels
Most of Brela's accommodation offer is villas and apartments. However, there are several hotels options too. At the top end, the Brela hotel with the highest rating is 5-star Bluesun hotel Berulia. Furthermore, their 4-star Soline option is just a few minutes further up the beach. You can check out all the options on the usual booking platforms.
Apartments and villas
There are too many great options to detail all. But, check the usual online booking options and review sites for details. And, don't be a dummy, read more than the first couple of reviews.
Real estate: buy a house, buy land, buy property, build a holiday home
Fallen in love with Brela? We don't blame you. But, if that love extends to you wanting to buy a house in Brela, where to look? Actually, there don't appear to be any real estate brokers in Brela. However, there are many in Makarska. And, it's just 20 minutes down the coast by car or bus. However, buying a house in Brela is such a recognised desire, you'll doubtless find properties and plots on the books of estate agents in Split.
Brela camping and hostel
Sadly, there are currently no dedicated campsites within Brela. However, very unusual for such a destination, Brela does have a hostel option. Specifically, you can find details on the Tourist Board page. Moreover, there are two excellent campsite options next door in Baška Voda. You can read about them here.
Where to eat in Brela? Brela restaurants
Genuinely, you're spoiled for choice for places to eat here. On the beachside, there are some fast food and cafe bar options that will satisfy at lunch. When evening draws in, the number of special options is excellent. Unquestionably, we'd recommend venturing further than the shoreline.
Seaside treats
You'll find a great pizza and grill by the sea, no problem. Either ask for a recommendation or check the usual review sites. However, it would be remiss not to mention two well-known eateries. Konoba Feral is popular. Their food's considered presentation edges it more into restaurant than tavern territory. By comparison, Obid is an unabashed, real-deal restaurant. Adventurous technique, contemporary presentation, but with the best of local, seasonal produce at the heart.
Special Brela restaurant taverns away from the shore
If a restaurant away from the coast is going to work, then it's got to do something distinct or do something exceptionally well. Given that, it's unsurprising to find exceptional Dalmatian taverns thriving here.
Specifically, a konoba (tavern) specialises in hearty, traditional Dalmatian food. That is to say, there's all the fresh seafood of the seaside, also meatier options from the hinterland. If you're going to go to a traditional Dalmatian tavern like these, then do yourself a favour. Don't order ćevapčići, unless you have the imagination and tastebuds of an amoeba. Alternatively, check out the menu the day before and pre-order peka, with octopus or meat, or pašticada.
Konoba
In the hills overlooking Brela, Konoba Galinac has special food, a special terrace and very special views. Not only is the seafood super fresh, but also the sunsets are unforgettable. Altogether, an exceptional experience.
Although the stone house say rustic, Ivandića Dvori actually edges closer to a restaurant experience. If you're looking to drink fine wine to match your meal, then this is a good choice indeed. Not only is the seafood superb, so is the seating.
Konoba Roko in Gornja Brela does great peka from their 100-year-old family residence. What's more, the welcoming, authentic, homely experience is rounded off by delightful outdoor seating beneath shading trees.
In previous years, Konoba Katara have gotten over their out-of-town position by offering free return taxis. Not only do they have wonderful views, but also a lovely ambiance.
There's little that's rustic about the gorgeous terrace at Gostionica Šampion. In effect, this feels more like a restaurant. Although the food is casual, the exceptional views are anything but. Go for lunch and enjoy the full, magical vista.
Special restaurants worth travelling to
Konoba Panorama is up in the hills behind nearby Baška Voda. Its huge terrace holds epic views. Specifically, it's authentic Dalmatian food that's the specialty here. Look and maybe book the day before, if you want to try pasticada or peka (do!)
20 km south, in Tučepi, you'll find the only Michelin-recommended restaurant on Makarska Riviera. Moreover, the style, panache and presentation of the Mediterranean reimagined at Jeny can leave you breathless. By comparison, the nearby Konoba Ranch (Ranč) is more informal. However, food is great and its location in the middle of an olive tree garden gives a truly special ambiance.
Where to drink
Most of the restaurants and coastal cafe bars will sell you just a coffee or a beer. Although, don't think about taking up a table to just drink at dinner or lunch. Brela has several beachfront bars that will happily accommodate you. Just take a look around and find your spot. Good for morning coffee is Caffe Bar Mačić. By comparison, you can stay up late drinking cocktails at Waikiki.
Top 6 day trips
If day trips are definitely in your holiday plans, then you could not have picked a better place. Not only is Brela extremely well connected by road and motorway, but also the port of Makarska is very close by. Furthermore, the Omiš Riviera and its captivating capital are literally just a few minutes up the coast. So too, a fascinating part of the Dalmatian hinterland.
Special food, zipline, white water rafting on Cetina river and the atmospheric Old Town of Omiš
Without a doubt, Omiš Old Town is incredibly beautiful. Moreover, it has a wonderful nighttime ambiance. Particularly in summer, when diners and drinkers fill the alleys and little squares. Additionally, it has white water rafting on the Cetina river and Croatia's most spectacular zipline. As a matter of fact, if you only do one mainland day trip on your Brela holiday, and if you don't want to travel too far, go here. Read everything you need to know about Omiš in our guide.
Get the best views in Dalmatia from Biokovo Nature Park and the Skywalk
Biokovo mountain is inescapable. In fact, at 36 kilometers in length, it dominates the skyline of this part of Dalmatia entirely. In particular, as a backdrop for peaceful morning coffee on the terrace, the view is simply jawdropping.
The whole mountain area – almost 200 km² – is a Nature Park. Rare flora and fauna live here. And, they sometimes reveal themselves while walking or hiking the mountains. Or on a guided tour. Although, you can visit the summit by car if you don't fancy the walk.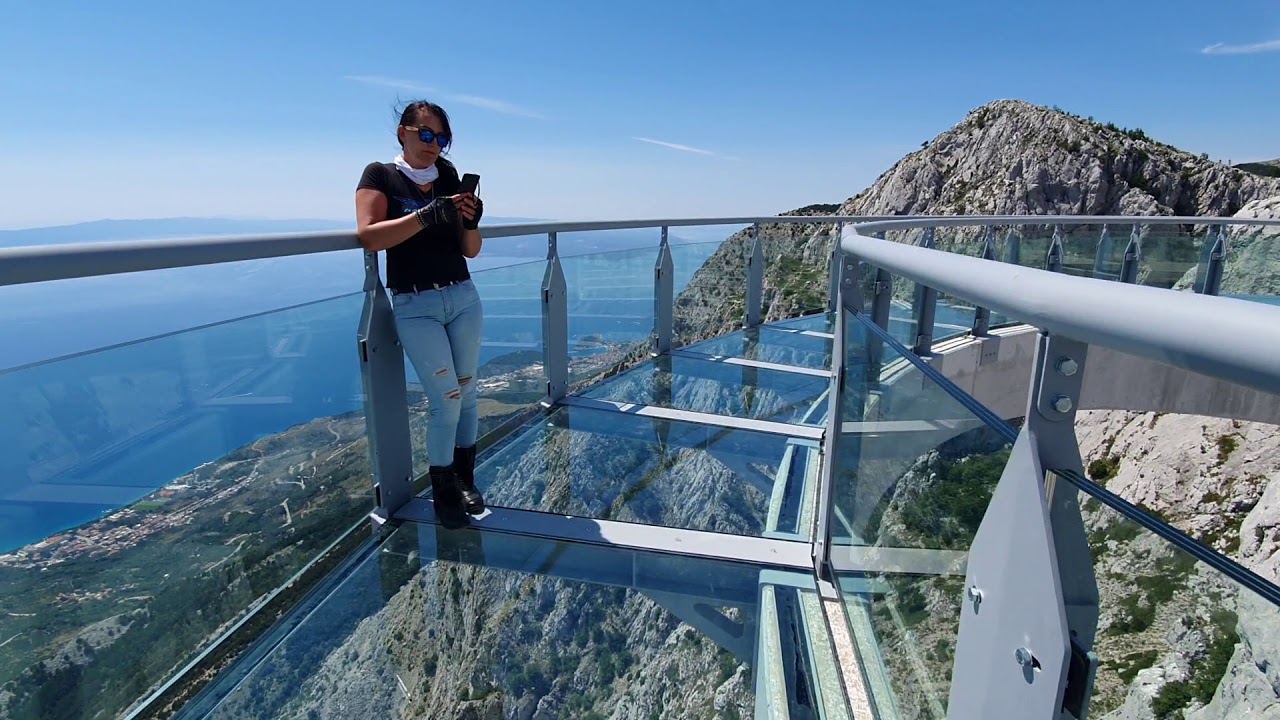 At 1422 meters, Vošac is the highest point. Its views are some of Croatia's best. In fact, nearby there's the thrilling Skwalk attraction. From there, coastal towns look tiny below you. Across the shimmering expanse of blue, the island of Brač. And, behind it, Hvar. Read more about the epic Biokovo mountain and the Biokovo Nature Park in our guide.
Head into the hinterland for the 11 lakes of Imotski
If traditional Dalmatia captures your heart, head inland. Because you'll experience a whole other side. And, Imotski is a brilliant and unique choice. It's less than 40 km away by road. Moreover, getting there couldn't be easier, thanks to the tunnel they built through the mountain.
Lakes
Best known for its Blue and Red lakes, there are in fact a total of 11 around the city. Take the epic descent down to the Blue lake. Swimming in its calm, fresh waters is an unforgettable, once-in-a-lifetime experience. Emphatically, it's wholly unlike swimming in the sea. Remember to conserve enough energy for the walk back up! Additionally, restaurant prices drop considerably the further you get from the sea. Bargain! Read more about the city in our guide.
Visit the UNESCO Diocletian's Palace in Split
Around 50 km north up the coast is Croatia's second city. Subsequently, Brela Split is a super easy journey to make. And, everyone should walk around Split Diocletian's Palace once in their life. In fact, it's the perfect big city for a day trip. Because there's so much to do and see. Furthermore, the route Brela Split is easy by car or bus. Specifically, it takes about an hour to travel from Brela to Split. Find out more in our guide to the city of Split.
By car, by bus or hop on a boat to Dubrovnik
How far is Brela from Dubrovnik? The distance from Brela to Dubrovnik is a not inconsiderable 180 kilometres. However, is it really so far to miss out on that visit you always dreamed of? In detail, it's only two and a half hours by car. Additionally, it's doable by Brela Dubrovnik bus. Furthermore, Krilo have a fast boat service that runs between Split, Brač, Makarska, Korčula, Mljet and Dubrovnik. Subsequently, you can travel from Brela to Dubrovnik by boat via Makarska. See the timetable and buy tickets here.
Furthermore, you can read up on the walled city of Dubrovnik here.
Island hopping: Brela to Brač island by boat or ferry
With the famous islands of Brač and Hvar constantly tempting you from across the water, it'd be a shame not to give in. Certainly, you can take boat trips locally. Furthermore, this may be the best way to do the route Brela Jelsa on Hvar island. But, a super cheap option is the walk-on ferries and catamarans from nearby Makarska. They run very regularly and offer an inexpensive choice for route Tučepi – Brač.
Timetables and tickets
Krilo have a fast boat service that runs between Split, Brač, Makarska, Korčula, Mljet and Dubrovnik. See the timetable and buy tickets here. On the Jadrolinija ferry you can take your car to Brač. Timetable and tickets are here.
Weather in Brela Croatia
Like all of coastal Dalmatia, Brela has a classic Mediterranean climate, with long, hot summers. Indeed, many days of sunshine can be all but guaranteed here. What's more, you can usually wear shorts and a t-shirt from April until November. Wondering about weather Brela May? Pondering the weather Brela October? Point often overlooked is that summers are extended here. Indeed, it's warm enough in the sea to swim from some time in May right the way to October. Here's how the weather in Brela looks today and the Brela weather forecast for the rest of the week.
Where is Brela Croatia? Brela Map
Brela is the northernmost municipality on the Makarska Riviera section of Dalmatia, Croatia. It faces the island of Brač and Hvar island is visible behind Brač. Specifically, it is in modern-day Split-Dalmatia county. In detail, its GPS coordinates with respect to latitude and longitude are 43.3686° N, 16.9299° E. And the Brela zip code is 21322 Brela (postal code).
View Larger Map
How to get to Brela and get around
Flights: nearest airport to Brela
The nearest airport to Brela is Brač island. Although, that route obviously requires a boat journey to reach the mainland. Actually, for flights to Croatia region central Dalmatia, the most popular airport is Split. In detail, the distance from Split airport to Brela is around 85 km. Moreover, it takes around an hour to get there by car. You can also make the trip between the two very easily by bus. For all you need to know about Split airport look here.
Brela to Dubrovnik airport
It's only around twice the distance from Brela to Dubrovnik airport as it is from Split airport. Subsequently, it really shouldn't take three times longer to get there (around 3 hours - no guarantees!). But, currently, it does. However, the Pelješac Bridge is nearing completion. Indeed, as much as an hour could soon be cut from the travelling time. Great! Read more about Dubrovnik airport here.
Road
Brela is a very short drive off the main motorway from Zagreb. Specifically, the motorway turn off you're looking for is Zagvozd. In detail, from there, drop down to Baška Voda, then up a couple of minutes to Brela. However, if you're coming from Split, you can take the coastal road, which is pretty. Out of season, this might be a good idea. And the journey time is similar to going via the motorway.
However, the tourist season is a different story. Plans are in place to upgrade the road infrastructure around the bottleneck of Omiš. But, until those works are completed, the motorway route will save you time.
Looking for a fast, reliable and trouble-free transfer to or from Brela? Contact TC transfer partner Adriatic Transfers for your one-stop solution.
Similarly, you have the coastal route option coming from Dubrovnik and the south. But, the motorway will be quicker, taking less than two and a half hours.
Brela bus: local and intercity
Travelling intercity by bus in Croatia is a fast, popular and reliable option. Indeed, you can easily reach Brela by bus from anywhere in Croatia. Learn more about travelling through the country by bus here.
Also, local buses can take you up and down the Makarska Riviera, into parts of the foothills or even into the hinterland.
Boat
If you want to arrive to Brela by boat, you can. Through the nearby port of Makarska you can travel to Brela by boat from Dubrovnik, Split, island Brač and other destinations. Furthermore, you can check out links to timetables and tickets in the links in the sections above.
More information
You can get more information about Brela by visiting their tourist board's website here
To follow the latest news from Brela and Makarska Riviera, check out the TCN pages.